Covid: Violent protests at largest iPhone factory in China
Published on Nov 23, 2022 11:27 PM IST
Wednesday's clash was the latest case of anti-Covid protest in China where resentment over restrictions is boiling over even as authorities battle a country-wide outbreak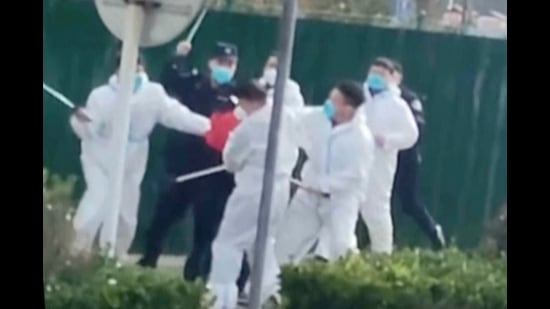 Beijing: Violent clashes erupted between workers and security personnel at the world's largest iPhone factory in central China's Zhengzhou city early on Wednesday with employees living under tough Covid-19 restrictions for weeks breaking barricades and rushing out of the premises.
Workers at the Foxconn Technology Group plant, which makes Apple iPhones and which has been roiled by Covid-10, streamed out of dormitories in the early hours of Wednesday to confront security personnel and hazmat-suit wearing health workers, widely circulated footage on Twitter and temporarily on Chinese social media showed.
Wednesday's clash was the latest case of anti-Covid protest in China where resentment over restrictions is boiling over even as authorities battle a country-wide outbreak, dampening economic recovery and slowing an exit from the country's controversial "zero-Covid" strategy. The national health commission on Wednesday reported 29,157 infections nationwide for Tuesday with the southern city of Guangzhou and southwestern Chongqing city logging more than half the number.
Dubbed "iPhone city", the plant in Zhengzhou has been operating in a "closed loop" bubble for several weeks amid complaints that wages have not been paid regularly and workers have not been allowed to leave the premises.
The footage showed bloodied and agitated workers in groups raising slogans with some engaging in heated arguments with the plant's security while others forced their way past barricades. Some used fire extinguishers to confront the security personnel. "Onlookers yelled "fight, fight!" as throngs of people forced their way past barricades. At one point, several surrounded an occupied police car and began rocking the vehicle while screaming incoherently," Bloomberg said in a report on Wednesday.
Chinese riot police were deployed around the factory on Wednesday.
The footage, comprising long videos and still photographs, could not be independently verified.
Workers forced their way out of the plant earlier this month, fearing a spreading internal outbreak, and many walked for miles to reach their homes in the province.
In Beijing, where many schools and most offices and malls have been shut down and movement in and out of the city restricted, infections hit a new peak of 1,486 for Tuesday.
Beijing, state media reported, will further tighten its Covid-19 control measures from Thursday by requiring residents to carry a 48-hour negative Covid test result to enter public places.
"All people are required to show negative results on nucleic acid tests taken within 48 hours before entering government departments, office buildings, supermarkets and other public places, as well as before taking buses and riding on the subway," state-run China Daily newspaper reported.
"The current virus variant is extremely infectious and easily concealed, and the city's control and prevention work is currently at the most critical stage," the report added.
Beijing, a city of over 21 million residents, currently has more than 1,000 "high risk" zones with active cases and primary contacts.
Personalise your news feed. Follow trending topics