Donald Trump's billionaire gulf partner 'sympathetic' on US trade war with China
Updated on Nov 23, 2018 01:03 PM IST
Dubai-based billionaire Hussain Sajwani, who has golf course deals with the Trump Organization, understands why the US president is taking a tough stance on trade with China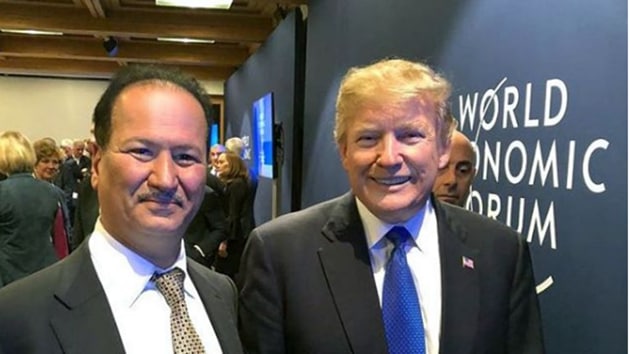 Step aside, Kanye. Donald Trump's latest supporter comes from the Middle East.
Dubai-based billionaire Hussain Sajwani, who has golf course deals with the Trump Organization, understands why the US president is taking a tough stance on trade with China. Free trade shouldn't be a luxury, the 65-year-old developer said in an interview, while stressing that he's mostly focused on his real estate business, Damac Properties PJSC.
Poor trading conditions for Dubai property developers and a subsequent slump in Damac's shares have slashed Sajwani's fortune this year by more than a quarter to about $3.6 billion, according to the Bloomberg Billionaires Index. Yet the US college graduate is unfazed by these fluctuations and expects Dubai's real estate market to rebound within the next three years. Damac, founded by Sajwani in 2002, reported revenue last week of 1.5 billion dirhams ($408 million) for the three months through September, a 33 percent drop from the same period a year earlier.
Sajwani spoke with Bloomberg at Damac's London offices. His comments have been edited and condensed.
Is your association with Trump more a help or a hindrance?
We have signed an agreement with the Trump Organization. We're very, very happy with them -- their service and their quality. Without the organization, we would never have been able to build our golf courses. Mr. Trump is the president of the United States, and that's a different story.
Have you tried to bend his ear about issues like trade policy?
I'm not a politician. I'm busy 24 hours a day, seven days a week, looking after my business. The world needs free trade. It isn't a luxury – it's a necessity. In any trade relation, the two parties involved have to be happy and feel equally treated. If the markets in the US or Europe are open to Chinese companies to do business, non-Chinese companies should be treated on the same basis there. Doing business in China has been one of the big challenges for global companies. That's where I feel sympathetic to the US government when they want equal treatment. We haven't ever felt like because we're from the Middle East there's another layer of bureaucracy for us abroad.
Does losing almost 30 percent of your wealth bother you?
I've been in business for almost 38 years. Profits and net worth? They go up, come down. I've seen cyclical markets. Yes, I've had tough times, like in 2008, and I hope they don't come back again. You don't look at your profits every day. Instead, you focus on matters like adding more members to your team, building your brand name, improving service to the customer. On a day-to-day basis, those are the more important things. So, overall, the loss of wealth this year doesn't bother me.
Any update on your willingness to sell a stake in Damac?
The question asked last time was 'Would you be willing to sell some stake in the company if it was at the right time and right price?' And I said yes. But we have no interest in selling a stake at this stage. We haven't hired any advisers for a sale. It was a hypothetical question. We're happy the way we are.
Do you have a family office?
Yes, where we invest my dividends. It's been around for about 15 years. We mostly park the dividends with fund managers with different products. Philanthropy is important, too. We're sponsoring a program to train 1 million young Arabs to learn computer coding. We just had the first anniversary for that, and we've had about 400,000 kids on the initiative so far.
Is Brexit affecting your UK investment outlook?
We are open to any project in London if it makes sense. We're keen to do business in London and keen to acquire sites in the city. We have come here for the long-term -- not for a building or two. For most of 2017, we didn't want to make any decisions until things became clearer for the UK We're coming to an end of that uncertainty, and we'll have a full picture in the next few months.
How do you relax when not in the office?
Mostly with my family. Outside of Dubai, I have a place in London, and in Newport Beach, and we spend a couple of weeks a year in the US. The best time I have is with my kids and family.
Personalise your news feed. Follow trending topics