Hafiz Saeed's JuD to contest 2018 Pakistan general election
Lashkar-e-Taiba founder Hafiz Saeed, who was under house arrest in Pakistan since January this year, walked free on November 24.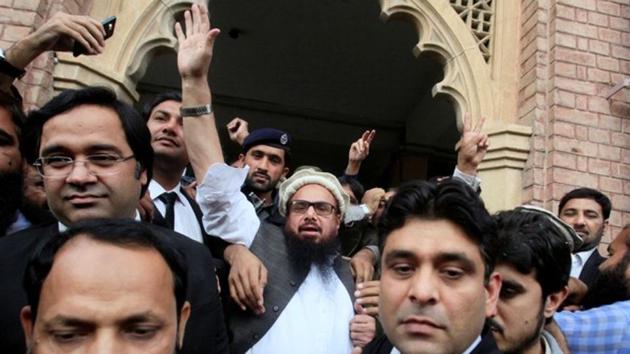 Updated on Dec 03, 2017 03:13 PM IST
Hindustan Times, Islamabad |
Imtiaz Ahmad
Mumbai terror attack mastermind Hafiz Saeed has said his banned organisation Jammat-ud-Dawah will contest in next general elections scheduled for 2018 under the banner of the newly formed Milli Muslim League party.
The decision to field his party was aimed at helping to "highlight the Kashmir cause internationally", Saeed told reporters at Jamia Qadsia in Lahore on Saturday.
The JuD chief, who was released from house arrest last week, alleged India was lobbying internationally to malign the Kashmir cause and Pakistan's incumbent government had bowed down to appease New Delhi.
He said he believed that India was forcing the Pakistani government to abandon the Kashmir cause "which is not possible".
"This is the right time to enter the country's politics to persuade the world community by establishing an independent foreign desk to highlight the Kashmir cause," he said.
Milli Muslim League had contested the September by-election for the NA-120 constituency in Lahore. The National Assembly seat had fallen vacant after the disqualification of former prime minister Nawaz Sharif by the Supreme Court in the Panama Papers case. His wife Kulsoom Nawaz won that seat.
Sheikh Yaqoob, a JuD-backed candidate who secured 6,000 votes, had announced at the time that the JuD would contest the 2018 elections. Yaqoob was placed on a US Treasury sanctions list of those designated as leaders of terrorist organisations in 2012.
"I firmly believe that after winning elections, MML will be able to work decisively for the Kashmir cause … this is why I support it," said Saeed, who walked free on November 24 after the Pakistani government decided against detaining him further in any other case.
Read: India has given 'no evidence' against Hafiz Saeed: Pakistan PM Abbasi
The JuD, a front for the Lashkar-e-Taiba that carried out the 2008 Mumbai attacks that killed 166 and injured over 200 people, formed MML when Saeed was detained in Lahore.
The founder of Lashkar-e-Taiba also vowed to continue supporting Kashmiris.
"I want to tell India that I will continue to support Kashmiris no matter what kind of difficulties are there. India wants us to stop raising voice for the Kashmiris. It is building pressure on the Pakistani government. I want to tell Pakistan that back channel diplomacy only caused harm to the Kashmir cause," he said.
Saeed was placed on the terrorism black list by the United Nations under UN Security Council Resolution 1267 in December 2008. The US, too, has designated him as a global terrorist and has announced a reward of $10 million for information leading to his arrest and conviction.
Citing Burhan Wani's example, the JuD chief pointed out that Kashmir would secure independence only through sacrifices. "After Wani's sacrifice, the Kashmir independence struggle gained momentum," he said.
He claimed that India forced the PML-N government to arrest him when he announced that 2017 would be the year for the Kashmir struggle. "They had to release me because they were unable to collect any [incriminating] evidence against me," he said.
The JuD chief appealed that for the sake of the Kashmir cause, Pakistan Army, the people and the government should think alike.
Read: Pervez Musharraf says he likes Hafiz Saeed, is 'biggest supporter' of LeT
Saeed claimed that his detention in Pakistan and Hurriyat leaders in India was part of an international agenda.
"This had been done to harm the Kashmir cause. India is angry over my release from the house detention. I warn India if it does not stop atrocities against Kashmiris then this struggle will rise further and it will face the music."
Saeed and his four aides--Abdullah Ubaid, Malik Zafar Iqbal, Abdul Rehman Abid and Qazi Kashif Hussain--were placed under house arrest in Lahore on January 30 under anti- terrorism act.
India had expressed outrage over the judicial board's decision to release Saeed, calling it an attempt by Pakistan to mainstream proscribed terrorists and a reflection of its continuing support to non-state actors.
Saeed has filed the petition to remove his name from the UN list of designated terrorists.
He was put under house arrest after the Mumbai attack too, but was freed by a court in 2009.
Nine of the Mumbai attackers were killed by police while lone survivor Ajmal Kasab was caught and executed after a trial. (With inputs from PTI)
Close Story