India, Afghanistan launch second air corridor linking Kabul and Mumbai
Dec 27, 2017 05:01 PM IST
The second route follows the success of the Kabul-New Delhi air corridor that has been used to export goods worth more than $20 million since mid-June.
The second India-Afghanistan air cargo route linking Kabul to Mumbai was officially at the launched on Wednesday, with officials saying it is expected to boost the export of fresh fruits and medicinal plants from Afghanistan.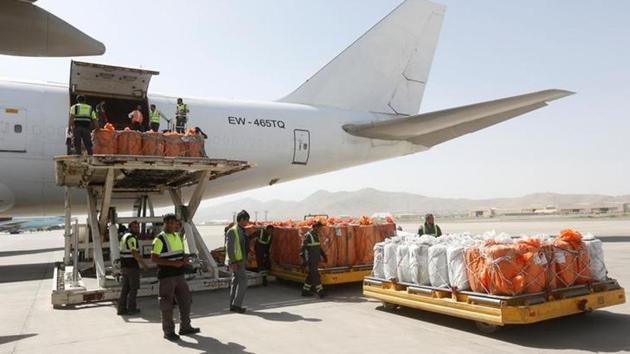 The second route follows the success of the Kabul-New Delhi air corridor that was inaugurated by President Ashraf Ghani in mid-June.
Afghan officials told the media that 10,640 tons of fresh produce, fresh and dried fruits, medicinal plants and handicrafts worth more than $20 million had been exported to India since the launch of the first corridor.
The second corridor was formally inaugurated by Afghan and Indian officials at the Hamid Karzai international airport in Kabul.
Speaking at the launch ceremony in Kabul, the deputy chairman of the Afghanistan Chamber of Commerce and Industries (ACCI), Khan Jan Alokozay, said the export of Afghan fruits will increase thanks to the new route.
"The government has taken 80% responsibility for exporting fruits outside the country," Alokozai was quoted as saying by Tolo News.
He thanked President Ghani for the government's efforts in this field and said: "India is not charging taxes (from) Afghan traders. We are also trying to send fruit to India's Amritsar city."
Second vice president Mohammad Sarwar Danish said the air corridor is very important for the government. "We are hoping that the neighboring countries even consider the economy in their political policy," he said.
"India also promised to hold (an) exhibition for Afghan traders in Mumbai city and they also want to create business chambers," Danish said. "We hope that our ministry of foreign affairs develops this relationship even further."
ACCI officials said the air corridors between Afghanistan and India are key to boosting exports to India and the rest of the world.
"When we look back at our exports in the past six months, the total volume of our exports in which the air corridor had a significant role, we have seen a dramatic increase and it totals – in the six months – to about $398 million," said Atiqullah Nusrat, chairman of the board of directors of ACCI.