India's China reset: An unstable world brings Modi and Xi together, for now
Updated on Apr 23, 2018 07:34 AM IST
The basis of the so-called "reset" in India-China relations was outlined publicly by ex-foreign secretary S. Jaishankar at the Hindustan Times Leadership Summit in Singapore on 13 April, say senior Indian sources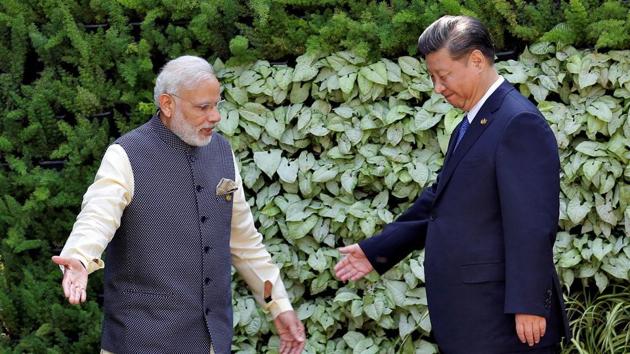 Hindustan Times, New Delhi |
Pramit Pal Chaudhuri
When the going gets tough, the summits get going. Prime Minister Narendra Modi and Chinese President Xi Jinping will meet this week to discuss the state of the world rather than the state of bilateral relations.
Mutual concern about a crumbling global system is behind New Delhi and Beijing's desire to set aside two years of confrontation and hold discussions at the highest level – national security advisors, foreign ministers, foreign secretaries and soon, the two leaders themselves.
Irritations like the border dispute are being kept off the agenda. Global concerns like trade, terrorism and the like will be on the list.
The basis of the so-called "reset" in India-China relations was outlined publicly by former foreign secretary S Jaishankar at the Hindustan Times Leadership Summit in Singapore on April 13, say senior Indian sources.
With a new global order possibly emerging, he had noted, there had to be more "common ground between players" and it was important for larger countries "even as they compete, to find common grounds and set rules."
Diplomatic sources say this recognition came several weeks after the Doklam crisis ended last year. When Indians and Chinese officials met, it was clear neither side wanted a "repeat of the past year". In the discussions over the next few months, the two governments agreed larger issues needed addressing.
Indian officials say it had been clear even earlier that China was becoming increasingly concerned about global instability. In bilateral discussions, the Chinese would quiz Indians about the views of the US President Donald Trump regarding various issues. Beijing has also been alarmed by Islamic militancy in West Asia and renewed fighting in Afghanistan. Beijing sees Pakistan and even Russia as playing unhelpful roles in these regions. North Korea and the looming trade war with the US have only added to China's prioritising stability above all else.
Broadly, say several sources, Xi sees the Modi regime as a source of stability rather than a threat in all this turmoil. As MIT China expert M. Taylor Fravel noted, "Contrary to the conventional wisdom, China views India's rise as a positive development."
Beijing, which has struggled to restructure its economy in the past few years, is also impressed by Modi's ability to carry out economic reforms and maintain growth rates.
New Delhi, for its part, believes it has successfully confronted a more powerful China on three counts – securing the Dalai Lama's succession, opposing the Belt and Road Initiative (BRI) and enforcing the status quo in Doklam – and can afford to take a break during a year of domestic consolidation.
None of these issues have been settled and there is full expectation that the two will cross swords over them at some point.
Senior Indian officials say there is no strategic shift in the India-China relationship. New Delhi will seek to undermine the BRI. China will block India from entering the Nuclear Suppliers Group. Both will be in contention for influence in the Indian Ocean. For now, however, the two countries have agreed the new priority is greater engagement over a world fraying at the edges.
There is so much instability, a senior Indian official noted recently, "no government has a grand strategy today."