Indonesian city hit by tsunami after 7.5 magnitude earthquake
Sep 29, 2018 12:12 AM IST
A spokesman for Indonesia's geophysics agency says a powerful Sulawesi earthquake caused a tsunami, apparently after the agency lifted a tsunami warning.
A tsunami caused deaths when it hit a small city on the Indonesian island of Sulawesi on Friday after a major quake, collapsing buildings and cutting off power, officials said, although the exact number of casualties was not clear.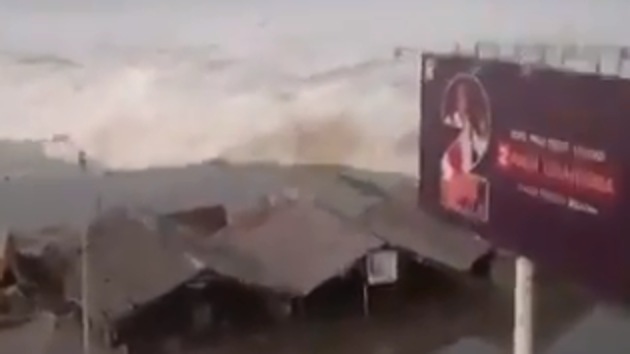 The tsunami up to 2 metres (six feet) high struck beaches as dusk fell in Palu, a sleepy but growing tourist resort, and the nearby fishing town of Donggala, closest to the epicentre of the quake 27 km away, officials said.
"The earthquake and tsunami caused several casualties ... while initial reports show that victims died in the rubble of a collapsing building," National Disaster Mitigation Agency spokesman Sutopo Purwo Nugroho told reporters. "The number of casualties and the full impact is still being calculated."
Sutopo said the disaster caused a power outage that cut communications in Donggala and surrounding areas. The Communications Ministry is working to repair 276 electricity base stations.
Officials said aftershocks, the communications breakdown and the power outage made it hard to coordinate rescue efforts.
More than 600,000 people live in Palu and Donggala.
"The 1.5- to two-metre tsunami has receded," Dwikorita Karnawati, who heads Indonesia's meteorology and geophysics agency, BMKG, told Reuters. "The situation is chaotic. People are running on the streets and buildings have collapsed. There is a ship washed ashore."
BMKG had earlier issued a tsunami warning but lifted it within the hour.
Amateur footage shown by local TV stations, which could not immediately be authenticated by Reuters, showed waters crashing into houses along Palu's shoreline, scattering shipping containers and flooding into a mosque in the city.
The national search and rescue agency will deploy a large ship and helicopters to aid the operation, said agency chief Muhammad Syaugi, adding he had not been able to contact his team in Palu.
The armed forces and police will also provide troops and equipment to support the emergency response, officials aid.
Oil company Pertamina said its fuel depot in Donggala had been damaged in the incident though there was no oil spill. Fuel tanks had shifted in the quake and ship loading facilities were disabled among other damage.
There were no reports of damage to producing oil and gas fields in the area, according to the energy ministry.
Palu, hit by a 6.2 magnitude quake in 2005 which killed one person, is a tourist resort at the end of a narrow bay famous for its beaches and water sports.
In 2004, an earthquake off the northern Indonesian island of Sumatra triggered a tsunami across the Indian Ocean, killing 226,000 people in 13 countries, including more than 120,000 in Indonesia.
Some people took to Twitter saying they could not contact loved ones. "My family in Palu is unreachable," Twitter user @noyvionella said.
Palu airport was closed.
The area was hit by a lighter quake earlier in the day, which destroyed some houses, killing one person and injuring at least 10 in Donggala, authorities said.
The U.S. Geological Survey put the magnitude of the second quake at a strong 7.5, after first saying it was 7.7.
"Aftershocks are still continuing," Nugroho said.
"Communication has been crippled at this time, causing difficulties in coordination and reporting with the region."
Indonesia sits on the Pacific Ring of Fire and is regularly hit by earthquakes.
A series of earthquakes in July and August killed nearly 500 people on the holiday island of Lombok, hundreds of kilometres southwest of Sulawesi.