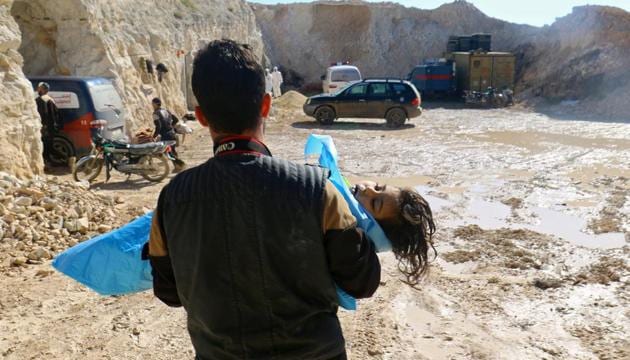 International probe underway to lay blame for Syria chemical attack
An initial report by an OPCW fact-finding mission is expected next week. It will not apportion blame, but aims to establish whether chemical weapons were used.
UPDATED ON MAY 05, 2017 07:28 PM IST
An international team set up to apportion blame for chemical weapons attacks in Syria has started investigating the deadly April 4 sarin gas incident in Idlib province, the head of the global chemical weapons watchdog said today.
Director-General of the Organization for the Prohibition of Chemical Weapons Ahmet Uzumcu told The Associated Press in an interview that the team, made up of experts from his group and the United nations, is already working and he was due to speak to its leader later in the day.
"They have some staff, up to 15 I guess, who have started working in our premises here," Uzumcu said. "And we will of course share all available information about recent incidents with them."
The probe will come under intense scrutiny amid widespread claims that Syrian President Bashar Assad's regime was responsible for the deaths of dozens of men, women and children in the town of Khan Sheikhoun. Assad denies responsibility.
An initial report by an OPCW fact-finding mission is expected next week. It will not apportion blame, but aims to establish whether chemical weapons were used.
Uzumcu, a Turkish diplomat, has said the mission has analyzed samples, including blood, urine and tissue, taken from Khan Sheikhoun victims and found "incontrovertible" evidence that they were exposed to the nerve agent sarin or a similar toxin.
But Uzumcu said they are still working to figure out exactly what happened. Russia has suggested victims could have been killed by toxic agents released from a rebel chemical arsenal struck by Syrian warplanes.
"The issue will of course be to develop a narrative on the incident - how it happened - so we can be sure that those victims in fact were really affected by the release of sarin in Khan Sheikhoun," Uzumcu said. "So we are not yet there, but the analysis or results of analysis are indeed incontrovertible."
France last week published a detailed report into the Khan Sheikhoun attack, saying French tests showed that the sarin used bore hallmarks of the Syrian regime's chemical weapons program. Turkey, the United States, Britain and others also blame Syria.
Human Rights Watch this week also laid the blame squarely with Assad, saying the April 4 attack was part of a pattern of chemical attacks by the Syrian regime.
A Human Rights Watch report said two remnants at a crater in Khan Sheikhoun where the first bomb hit appeared to come from a weapon produced by the former Soviet Union that was used to deliver chemical agents.
Syria declared a 1,300-ton chemical arsenal when it joined the OPCW in 2013. That stockpile has been destroyed, but the organization continues to question whether Damascus declared everything in its chemical weapon programme.
The use of chemicals as weapons, including chlorine and sulfur mustard, has been widespread in Syria's brutal civil war with reports of some 45 alleged uses by government forces and rebels since last year alone. Many of them involve chlorine.
Close