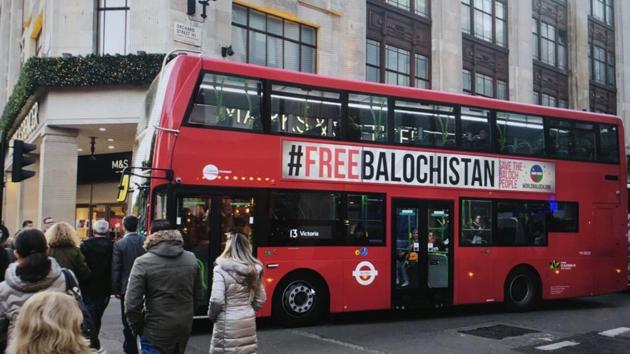 London to take down 'Free Balochistan' adverts from buses
London's iconic red buses with the advertisements featuring the slogan "Free Balochistan" have been criss-crossing the British capital for more than a week.
UPDATED ON NOV 15, 2017 07:24 PM IST
Transport authorities in London issued instructions on Wednesday to remove "Free Balochistan" advertisements from more than 100 buses on the ground that they did not comply with guidelines, but Baloch activists contended they were being taken off under pressure from Pakistan.
The advertisements – first seen on London taxis and billboards – highlighted alleged human rights abuses in Pakistan's restive southwestern province and evoked a sharp reaction from Islamabad. The buses with the advertisements have been criss-crossing the capital for more than a week.
A spokesman for Transport for London (TfL), which runs the capital's transport network, told Hindustan Times: "This advert does not comply with our advertising guidelines.
"It was accepted in error by our advertising partner and was not referred to us for our consideration. We have instructed that all such adverts must be removed immediately."
The instructions to remove the advertisements did not surprise Baloch activists.
Bhawal Mengal of World Baloch Organisation (WBO) said TfL is cooperating with Pakistan authorities, and added that "the message has already gone across".
According to him, the buses carried the large advertisements for more than a week, and it will be another week before they can be taken down from each of the buses. Except for two billboards on TfL property, he said others had not been taken down as of Wednesday.
Similar advertisements on London's iconic taxis were taken down recently following complaints through diplomatic channels in Islamabad and London. WBO said it had challenged the earlier TfL move to remove the advertisements on taxis.
The signs on buses have these slogans in large letters: "Free Balochistan", "Save the Baloch People" and "Stop Enforced Disappearances". Pakistan called the campaign "sinister" and "malicious", but WBO said it would peacefully speak out against alleged rights violations in Balochistan.
According to WBO's Noordin Mengal, "Tens of thousands of Baloch people have been murdered or disappeared by the Pakistan security forces. The killings are happening right now and are sadly aided by American weapon systems that are being diverted to attack the secular and progressive Baloch people, including the misuse of US supplied F-16 fighter jets and Cobra attack helicopters."
Balochistan, Pakistan's largest but least populated province that has abundant natural resources such as gas and minerals, has for long been plagued by an insurgency by armed Baloch nationalist groups.
In recent years, the bodies of hundreds of Baloch activists have been found dumped on the roadside, with rights groups blaming the Pakistan Army and intelligence agencies for their killing.
Pakistan often accuses India of fomenting unrest in the province, a charge that has been denied by New Delhi.
Close