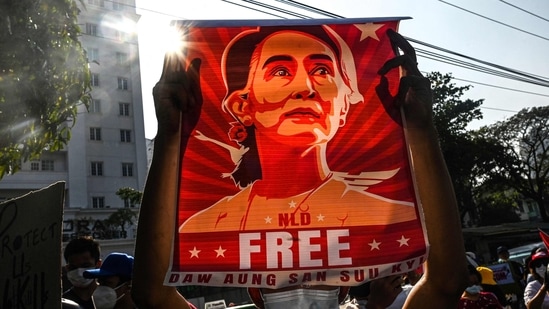 Myanmar Junta formally charges deposed leader Aung San Suu Kyi with corruption
"The Anti-Corruption Commission has inspected corruption cases against ex-state counsellor Daw Aung San Suu Kyi," the ministry of information said. "She was found guilty of committing corruption using her rank."
Bloomberg |
PUBLISHED ON JUN 10, 2021 02:19 PM IST
Myanmar's military junta formally charged detained civilian leader Aung San Suu Kyi and other officials with corruption on Thursday, according to the country's ministry of information.
"The Anti-Corruption Commission has inspected corruption cases against ex-state counsellor Daw Aung San Suu Kyi," the ministry said. "She was found guilty of committing corruption using her rank."
Political post holders convicted of corruption could face maximum 15 years imprisonment.
The junta had earlier moved Suu Kyi and ex-president Win Myint from their residences in the capital to an unknown location. The two have been held by the country's powerful military since it seized power in a coup on February 1.
Close