2 Kate Middleton anecdotes in Prince Harry's bombshell memoir 'Spare'
Jan 17, 2023 05:15 PM IST
Prince Harry Memoir Spare: Here's a look at two stories about Kate Middleton in Prince Harry's memoir
Prince Harry opened about his relationship with members of the royal family in his tell-all 'Spare'. Kate Middleton was no exception to the bombshells that Prince Harry revealed. Although, there are many happy stories that Prince Harry has shared about Prince William's wife, he has also shared stories which are not so kind about Kate Middleton.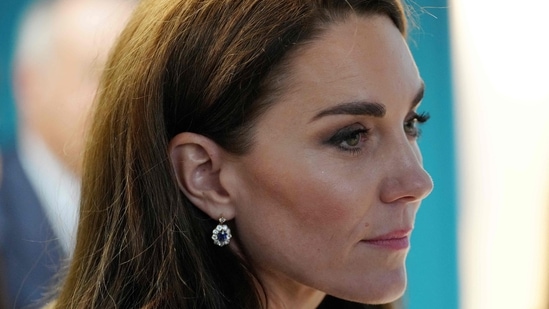 Here's a look at two stories about Kate Middleton in Prince Harry's memoir:
Read more: Prince Harry needs to 'shut up', says ex-royal marine he praised in memoir Spare
1. Kate Middleton 'grimaced' when Meghan Markle borrowed her lip gloss
In the memoir, Prince Harry recalled an "awkward" moment between Kate Middleton and Meghan Markle just moments before the first Royal Foundation Forum in 2018. When Meghan Markle, his then-fiancee asked Kate Middleton to borrow her lip gloss, the latter grimaced. Prince Harry claimed Meghan Markle asked an "American thing" because she forgot hers.
Read more: Prince Harry reveals he is 'not religious' despite royal family being…
"Kate, taken aback, went into her handbag and reluctantly pulled out a small tube. Meg squeezed some onto her finger and applied it to her lips. Kate grimaced," Prince Harry wrote explaining that they "should've been able to laugh about" but "'Here we go,' I thought sorrowfully," he recalled, thinking Kate Middleton had been "on edge".
2. Much ado about flower girl dresses for Harry and Meghan's wedding
Prince Harry also remembered the days leading up to his and Meghan's wedding.
"[Princess] Charlotte's dress is too big, too long, too baggy. She cried when she tried it on at home," Prince Harry claimed Kate Middleton texted Meghan Markle.
Read more: King Charles 'angry and outraged' that Prince Harry said this about Camilla
"Right and I told you the tailor has been standing by since eight a.m. Here. At KP. Can you take Charlotte to have it altered, as all the other moms are doing?" Meghan Markle replied. To which Prince Harry claimed that Kate Middleton responded, "No, all the dresses need to be remade."
"Meg asked if Kate was aware of what was going on right now. With her father. Kate said she was well aware, but the dresses," Prince Harry wrote. Shortly after the text exchange, Prince Harry remembered arriving home to find "Meg on the floor. Sobbing."