Prince Harry claims William told him not to propose to Meghan because she was…
Jan 06, 2023 10:41 PM IST
Prince Harry Memoir Spare Leaked: Prince Harry claims brother William warned him not to propose to Meghan
In his much-anticipated memoir 'Spare', Prince Harry claimed that his elder brother Prince William warned him not to propose to Meghan Markle out of fear that the couple's relationship was moving "too fast", Sky News reported quoting Page Six.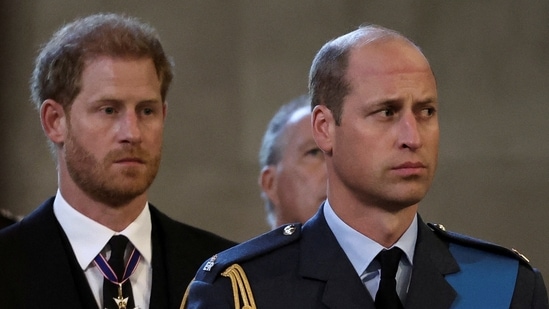 Read more: It's Prince Harry vs Taliban over this controversial claim in memoir
The report claimed that Prince Harry writes in his upcoming memoir that William squashed the idea that Harry and Meghan would "become a foursome" with him and Kate because she was "an American actress after all".
After telling Prince William that he felt like their late mother, Princess Diana, helped him "find" Meghan Markle, Prince Harry reportedly claims that Prince William "took a step back" and told his younger brother that he was "taking things a bit too far".
Read more: Prince Harry claims brother William was 'tormented' over King Charles' affair
Amid other claims, Prince Harry also wrote that William "felt tremendous guilt" for not speaking up about his father's affair with Camilla Parker Bowles, who is now the Queen Consort.
"[It)] confused him, tormented him, and when those suspicions were confirmed he felt tremendous guilt for having done nothing, said nothing, sooner," Prince Harry reportedly writes.
Read more: Princess Diana's 'maths was off': Why Prince Harry said this
Prince Harry also claimed that his William attacked him during an argument about his wife Meghan Markle.
"He grabbed me by the collar, ripping my necklace, and he knocked me to the floor. I landed on the dog's bowl, which cracked under my back, the pieces cutting into me. I lay there for a moment, dazed, then got to my feet and told him to get out," he writes in the book, according to The Guardian.