Pushpa Kamal Dahal Prachanda sworn in as new Nepal PM
Shunning the Daura Surwal, considered Nepal's national dress, Pushpa Kamal Dahal Prachanda took oath of office on Thursday as the new prime minister of the country.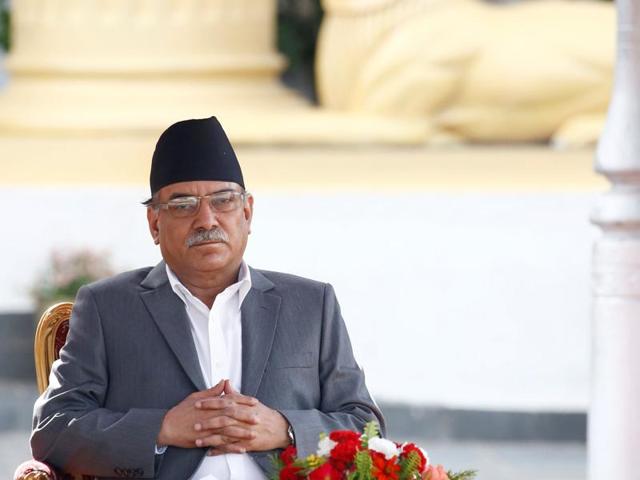 Updated on Aug 04, 2016 09:24 PM IST
Hindustan Times |
, Kathmandu
Anil Giri
Pushpa Kamal Dahal Prachanda took oath of office on Thursday for his second innings as the prime minister of Nepal.
His first day began with roadblocks in expanding the cabinet as both ruling parties, Nepali Congress and CPN (Maoist Center), witnessed uproar over picking of ministers.
Prachanda inducted five ministers- two from Nepali Congress and three from his own party.
Bimalendra Nidhi, a prominent Madesh-based leader and senior Nepali Congress politician who played a key role in bringing the Congress and Maoists together, was picked as deputy prime minister and home minister .
Nidhi had also helped negotiations with Madeshi parties and singing of the three-point pact with them, which has raised hopes the Madesh issue would be resolved soon.
The first cabinet meeting decided on providing immediate relief to the earthquake victims and to send health professionals to various districts to cope with water-induced diseases. It also decided to provide 1,000 rupees each to the families of Dalits and Janajatis for birth registration of their children.
"My first priority is to address the demands of Madeshis, Tharu, Janajatis and other communities in constitution and making the new constitution more acceptable to them," Prachanda said.
His other priorities are implementation of the new constitution and expediting the quake reconstruction work. The government will also focus on economic prosperity and job creation, he said.
" Ten years of open grounded politics has taught me a lot. I will work for the welfare of underprivileged community and will focus on their upliftment," he said after assuming office. Strengthening the national unity is another priority, he said.
The newly-elected deputy prime minister Bimalendra Nidhi instructed officials to focus on implementation of the deal reached with the Madesh-based parties.
The two main parties had inked a three-point deal with agitating Madesh-based parties ahead of the voting on Wednesday that paved the way for Dahal's elevation as PM.
After assuming the office, he instructed the senior home ministry and Nepal police officials to prioritize the deals sealed with Madesh based parties and urged them to take them for implementation.
Besides addressing the technical and political demands of Madesh based parties, the ruling Nepali Congress and Maoist had agreed to form a judicial panel to probe atrocities carried out by the state force during the Madesh agitation where 59 people were killed and dozens injured.
This government was formed in the foundation of agreements with the Madesh based parties, said Nidhi, adding it is urgent priority for government to implement them as soon as possible.
Interestingly, Prachanda, who often shuns the word ' God' while taking oath, took the oath of office as the 39th prime minister of Nepal in the name of God, people and the country, in a ceremony held at the office of President Bidya Devi Bhandari.
When swearing in as premier in 2008, Prachanda had skipped the word ' God' and took oath in the name of people and the country. But this time, he made a departure from that practice.
Krishna Bahadur Mahara of CPN-Maoist Centre also took oath as deputy prime minister.
A senior Nepali Congress leader Arjun Narsingh KC refused to take oath after he was not given the home portfolio.
Prachanda was elected by the Parliament to the top post on Wednesday, in which he secured 363 votes in favour and 210 votes against.
The swearing-in ceremony was attended by Vice-President Nanda Bahadur Pun, outgoing prime minister KP Sharma Oli, Chief Justice Sushila Karki, Speaker Onsari Gharti, former prime ministers, former ministers and leaders of political parties.
Close Story
Personalise your news feed. Follow trending topics