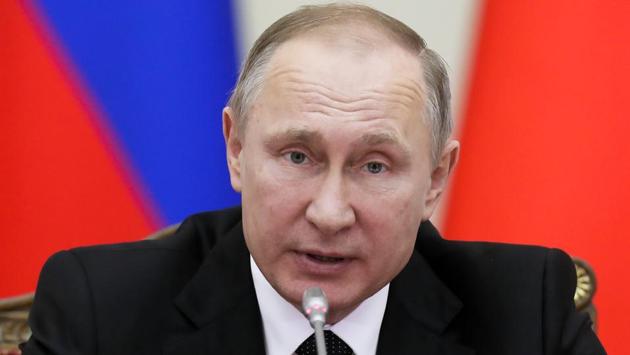 Russia not to expel US diplomats, Putin reserves right to retaliate
Russian President Vladimir Putin on Friday decided not to expel any US diplomats in a shock move by Moscow after Washington turfed out dozens of its diplomats over alleged election interference.
Moscow | By Agencies
UPDATED ON DEC 30, 2016 06:41 PM IST
President Vladimir Putin decided on Friday not to expel any US diplomats in a shock move by Moscow after President Barack Obama unleashed a barrage of retaliatory measures for alleged Russian meddling in the American election.
Russia reserves the right to retaliate to US sanctions over hacking but will watch policy moves of president-elect Donald Trump after he enters the White House next month, Putin said in a statement released by the Kremlin.
"We will not create problems for American diplomats. We will not expel anyone," Putin said.
"Reserving the right to retaliatory measures, we...will be planning our next steps in restoring the US-Russian relations based on the policies pursued by the administration of president Donald Trump."
Putin said he regretted that the Obama administration was ending its term in such a way.
Read: US intel accuses Putin of personally directing election hack
Earlier, Russia appeared poised to respond to Obama's decision to kick out 35 suspected intelligence agents, impose sanctions on two intelligence agencies and shutter two Russian compounds in the US in the furious dispute over alleged election interference.
Trump said while he believes the US should "move on to bigger and better things", he would meet with intelligence leaders next week for a briefing on the situation.
Obama's sanctions could easily be pulled back by Trump, who has insisted the president and Democrats are merely attempting to delegitimise his election.
Russian foreign minister Sergey Lavrov said his ministry and other agencies had suggested that Putin should order the expulsion of 31 employees of the US embassy in Moscow and four diplomats from the US consulate in St Petersburg.
Another suggestion in response to Obama's sanctions was barring American diplomats from using their summer retreat on the outskirts of Moscow and a warehouse south of the city.
Lavrov said the allegations that Russia interfered in the US elections were baseless. He also said Russia would not let the US sanctions on Russian intelligence agencies unanswered.
Obama delivered on a promise to punish Putin's government for allegedly trying to tilt the 2016 election in Trump's favor and unveiled the steps that will inflame tensions with both Moscow and the president-elect.
US intelligence had concluded that a hack-and-release of Democratic Party and Hillary Clinton staff emails was ordered by the Kremlin and was designed to put the Republican real estate mogul in the Oval Office.
"I have ordered a number of actions in response to the Russian government's aggressive harassment of US officials and cyber operations aimed at the US election," Obama said in a statement.
In response to the hacks – dubbed "Grizzly Steppe" by US officials – Obama announced sanctions against Russia's military intelligence agency, known as GRU, and the FSB, the organisation that was once known as the KGB.
Read: US sanctions Russian intel agencies for poll hacking, Trump says time to move on
Close