Russia-Ukraine war Highlights: PM Modi speaks to French, Polish Presidents, European Council President
Mar 02, 2022 12:25 AM IST
Russia Ukraine Crisis Updates: Russia launched a full blown invasion on Ukraine on February 24. However, thus far, it has failed to make significant gains.
Russia Ukraine Crisis Updates: An Indian student was killed during shelling in Ukraine's Kharkiv today, the External Affairs Ministry said in a Twitter post. Ministry spokesperson Arindam Bagchi said: "With profound sorrow we confirm that an Indian student lost his life in shelling in Kharkiv this morning. The Ministry is in touch with his family". He also said the Foreign Secretary had called in the Russian and Ukrainian ambassadors stationed in Delhi to 'reiterate our demand for urgent safe passage for Indian nationals still in Kharkiv and cities in other conflict zones'. Bagchi also said Indian ambassadors in Kyiv and Moscow were undertaking similar action.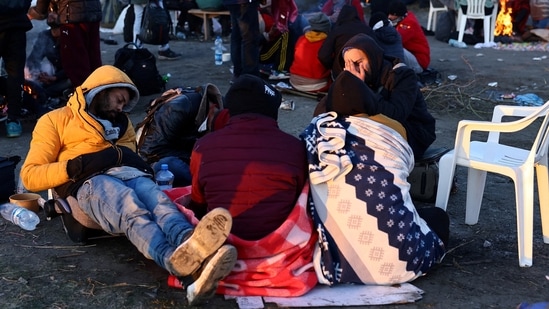 Full Coverage: Ukraine-Russia war
Kharkiv is Ukraine's second largest city and was battered by Russian missile strikes today; an Ukrainian minister tweeted a clip of a stately building exploding after what he said was a Russian missile strike. "Russian missile hits Freedom Square, right in the centre of Kharkiv. More and more innocent civilians become victims of Russian barbaric actions. #StopWarInUkraine. (sic)," the minister, Emine Dzheppar, tweeted.
Also Read | Indian embassy in Kyiv evacuating Indian nationals via trains on war-footing
Evacuation of Indian nationals from the eastern European country is taking place on a 'war footing', the government said earlier today.
Russia's invasion of Ukraine is in its sixth day and over 300 civilians, including at least 14 children, have been killed so far, Ukrainian President Volodymyr Zelensky said.
However Russia, despite facing harsh sanctions and global disapproval, has said it will pursue the Ukraine offensive until 'all goals' achieved, the defence minister was quoted by AFP.
Follow all the updates here:
Mar 02, 2022 12:25 AM IST

Phone call between PM Modi and European Council President

In call with H.E Charles Michel, the Prime Minister expressed his anguish over the deteriorating situation and humanitarian crisis in Ukraine. He reiterated India's appeal for cessation of hostilities and a return to dialogue: MEA

Mar 02, 2022 12:18 AM IST

PM Modi holds talks with French President Macron

PM Modi briefed President Macron about India's efforts to evacuate its citizens from the conflict areas and to send urgent relief supplies, including medicines for the affected populations: MEA

Mar 02, 2022 12:15 AM IST

PM Modi informs Polish President on India's evacuation efforts in Ukraine

Prime Minister Modi informed President Andrzej Duda that General (Dr.) V.K. Singh (Retd.), Minister of State for Road Transport and Highways and Civil Aviation, would be stationed in Poland as his special envoy, to oversee the evacuation efforts of Indian citizens: MEA

Mar 01, 2022 11:52 PM IST

Russia blocks radio channel, TV station

Moscow orders 'restriction of access' to independent TV channel Dozhd TV and liberal radio station Ekho Moskvy, for allegedly spreading 'deliberately false information' about Russia's invasion of Ukraine.

Mar 01, 2022 11:06 PM IST

'Must stop aggressor ASAP': Zelenskyy speaks to US President Biden

Mar 01, 2022 10:16 PM IST

'What's the point of saying never again', tweets Zelensky after Kyiv TV tower attack

Mar 01, 2022 10:11 PM IST

5 dead as Russia attacks TV tower in Kyiv, signal disrupted

Five people have been killed in Russian strike on Kyiv TV tower, reports AFP news agency quoting official.

Mar 01, 2022 09:42 PM IST

No Indians left in Kyiv now: Shringla

"All of our nationals have left Kyiv. The information with us is that we have no more nationals left in Kyiv, nobody has contacted us from Kyiv since. All our inquiries reveal that each and every one of our nationals has come out of Kyiv," says Foreign Secretary Harsh Vardhan Shringla.

Mar 01, 2022 09:41 PM IST

60% Indians in Ukraine have left, half of remaining 40% in Kharkiv: Foreign secy Shringla

Mar 01, 2022 09:14 PM IST

Russia attacks television tower in Kyiv, likely to disrupt signal, says Ukraine minister

Russian forces have attacked a television tower in Ukraine's capital Kyiv, potentially disrupting its signal, says Ukrainian Interior Ministry adviser Anton Herashchenko, reports Reuters.

Mar 01, 2022 09:11 PM IST

8 dead in Russian airstrike on Kharkiv residential block, reports AFP

Eight people have died in the Russian airstrike on Kharkiv residential block earlier today, reports AFP.

Mar 01, 2022 09:02 PM IST

Blinken says Russia should be stripped of UN Human Rights Council membership

US Secretary of State Antony Blinken suggests Russia should be stripped of UN Human Rights Council membership, reports AFP.

Mar 01, 2022 08:34 PM IST

'Russia preparing mass disinformation drive on Ukraine's surrender'

Ukraine believes Russia is preparing a mass disinformation campaign to suggest country leadership has surrendered, Ukrainian defence minister Oleksii Reznikov said.

Mar 01, 2022 08:19 PM IST

European Council head talks to Modi, expresses grief on student's death

President of the European Council, Charles Michel, spoke to Prime Minister Narendra Modi and extended his condolences on the death of an Indian student in Kharkiv, Ukraine. In a tweet, Michel wrote, "Expressed my condolences on the death of an Indian student in Kharkiv today due to indiscriminate Russian attacks against innocent civilians."

Mar 01, 2022 08:10 PM IST

YouTube to block channels linked to Russia across Europe

YouTube to block channels linked to Russia's RT and Sputnik across Europe, reports Reuters.

Mar 01, 2022 07:58 PM IST

'Like a massacre,' says Ukraine's ambassador to India, thanks for humanitarian aid

Mar 01, 2022 07:49 PM IST

China foreign min 'deeply regrets' Russia conflict in call with Ukraine counterpart

China's foreign minister calls Ukraine counterpart, says 'deeply regrets' Russia conflict, reports AFP, citing state media.

Mar 01, 2022 07:25 PM IST

Second round of ceasefire talks between Russia, Ukraine planned on March 2

Second round of ceasefire talks between Russia and Ukraine has been planned for March 2, reports Reuters.

Mar 01, 2022 07:04 PM IST

Russia asks Kyiv residents near intelligence infrastructure to evacuate, reports AFP

Russia tells Kyiv residents living near intelligence infrastructure to evacuate, reports AFP.

Mar 01, 2022 06:50 PM IST

PM Modi chairs high-level meeting on Ukraine crisis

Mar 01, 2022 06:45 PM IST

Images, videos show Ukraine's Kharkiv after Russian shelling

Mar 01, 2022 06:42 PM IST

UN seeks $1.7 billion for urgent Ukraine humanitarian aid

UN seeks $1.7 billion for urgent Ukraine humanitarian aid, the global body issued a statement.

Mar 01, 2022 06:27 PM IST

Indian students chant 'Vande Mataram' on return from Ukraine

Union Minister of Power and New and Renewable Energy RK Singh on Tuesday welcomed Indian students who reached Delhi airport after they were evacuated from conflict-hit Ukraine due to ongoing Russian military operations.

Students were seen joyously waving the national flag as they chanted "Vande Mataram" upon the touchdown in the national capital. (ANI)

Mar 01, 2022 06:15 PM IST

Russia committing 'geopolitical terrorism' in Ukraine, says EU chief Michel

Russia is guilty of "geopolitical terrorism" by violating international law in its invasion of Ukraine, EU chief Charles Michel said on Tuesday, reports AFP.

Mar 01, 2022 06:05 PM IST

Russia preparing presidential decree over foreign investment after being hit by sanctions

Russia is preparing a presidential decree aimed at preventing foreign investment exiting the country, Prime Minister Mikhail Mishustin said Monday, after Moscow was hit by a barrage of sanctions for invading Ukraine, reports AFP.

Mar 01, 2022 05:59 PM IST

PM convenes yet another high-level meeting at 6pm on Ukraine crisis

Prime Minister Narendra Modi has convened a high level meeting on the Ukraine issue at 6pm today, said sources. The meeting comes hours after the death of an Indian student in Ukraine's Kharkiv.

Mar 01, 2022 05:50 PM IST

PM Modi speaks to father of Naveen Shekharappa, Indian student killed in Ukraine's Kharkiv

Prime Minister Narendra Modi spoke to the father of Naveen Shekharappa, an Indian student who died in shelling in Kharkiv, Ukraine this morning. Read full story

Mar 01, 2022 05:48 PM IST

Delhi CM Kejriwal condoles death of Indian student in Ukraine

"Feel terrible to hear this news. Prayers for his family. Pray for the safety of all other Indians stranded and hope they will be back home soon. Hope the conflict will soon come to an end," tweets Delhi chief minister Arvind Kejriwal.

Mar 01, 2022 05:47 PM IST

Zelensky tells EU: 'Prove you're with us'

Ukraine President Volodymyr Zelensky, during his speech at the European Parliament, asked the EU members to "prove" they were on Ukraine's side.

Mar 01, 2022 05:43 PM IST

Zelensky gets standing ovation at European Parliament

Mar 01, 2022 05:29 PM IST

Brent oil price jumps over 5% on Ukraine crisis, reports AFP

Mar 01, 2022 04:54 PM IST

Nearly 1 million displaced in Ukraine amid Russian invasion: UNHRC

The UN's refugee agency says an estimated one million people have been displaced inside Ukraine by the Russian invasion, in addition to hundreds of thousands who have fled abroad, reports AFP.

Mar 01, 2022 04:53 PM IST

Rahul Gandhi extends condolences, calls for 'strategic plan' for safe evacuation

Mar 01, 2022 04:48 PM IST

Karnataka CM Bommai extends grief over death of Indian student in Ukraine

"It is a tragedy that Naveen Ganagoudar, a student from Haveri district in Karnataka, was killed in a shell attack in Ukraine. All efforts will be made to bring Navane's body back to India," he tweeted.

Mar 01, 2022 04:29 PM IST

NATO will defend 'every inch' of its territory: Stoltenberg

NATO chief Jens Stoltenberg said Russian President Vladimir Putin had "shattered peace in Europe" by invading Ukraine, adding that the Western defence alliance would defend "every inch of our territory", as reported by AFP.

Mar 01, 2022 04:09 PM IST

West ready to intensify sanctions on Russia for 'as long as it takes': UK PM

UK Prime Minister Boris Johnson has said that the West ready to intensify sanctions and keep up the pressure on Russia for 'as long as it takes', reports AFP. Johnson made the statement on a visit to Poland.

Mar 01, 2022 04:03 PM IST

Over 9,000 Indians evacuated so far, several others shifted to safe zones

Over 9000 Indian nationals brought out of Ukraine while a considerable number are now in safer areas. We will continue to make utmost efforts to ensure the return our citizens stranded in Ukraine, reported news agency ANI, citing sources.

Mar 01, 2022 03:27 PM IST

Russia to continue Ukraine offensive until 'all goals' achieved: Defence ministry

Russia will pursue Ukraine offensive until 'all goals' achieved, says defence minister as reported by AFP.

Mar 01, 2022 03:10 PM IST

India calls in envoys of Russia, Ukraine to demand security and safe passage for students

India is calling in envoys of Russia and Ukraine to demand security and safe passage for students.

Mar 01, 2022 03:05 PM IST

Indian student killed in Ukraine's Kharkiv amid war with Russia

Mar 01, 2022 02:39 PM IST

Ukraine seeks safe zone as Russia heads for Europe's biggest nuclear plant

The head of Ukraine's nuclear-power utility called on international monitors to intervene to ensure the safety of the country's 15 atomic reactors as an advancing Russian invasion nears Europe's largest nuclear plant. Read more

Mar 01, 2022 02:26 PM IST

Setback for Russia as Minsk unlikely to join its military ops in Ukraine, says report

Belarus has no plans to join Russia's military operation in Ukraine, Belarusian President Alexander Lukashenko was quoted as saying on Tuesday, reports Reuters.

Mar 01, 2022 02:24 PM IST

UK sanctions Russia's largest lender Sberbank, reports AFP, citing treasury

Mar 01, 2022 02:13 PM IST

Mariupol in eastern Ukraine loses electricity, reports AFP

East Ukraine city of Mariupol has lost electricity after the Russian attacks, reports news agency AFP.

Mar 01, 2022 02:11 PM IST

Central square of Ukraine's Kharkiv shelled, reports AFP, citing governor

Mar 01, 2022 02:06 PM IST

YouTube to block channels linked to Russia's RT and Sputnik across Europe

YouTube is blocking channels connected to Russian media outlets RT and Sputnik across Europe effective immediately, due to the ongoing situation in Ukraine, the company operated by Alphabet Inc's Google, said in a statement.

Mar 01, 2022 01:48 PM IST

Putin could be tried for war crimes, warns UK

The UK government warned Tuesday that Russian President Vladimir Putin and his commanders in Ukraine could face prosecution for war crimes, as indiscriminate shelling hit one city under invasion.

Mar 01, 2022 12:47 PM IST

Russian forces have increased their use of artillery north of Kyiv: UK

Image courtesy: ANI

Mar 01, 2022 12:10 PM IST

'Leave Kyiv urgently today,' India tells citizens stuck in Ukraine

India has told its citizens - stuck amid the Ukraine war - to 'leave Kyiv urgently today'. "Advisory to Indians in Kyiv- All Indian nationals including students are advised to leave Kyiv urgently today. Read More

Topics

Story Saved