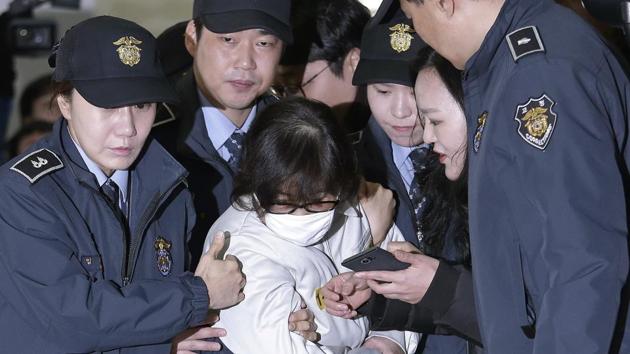 S Korean prez's jailed confidante Choi snubs lawmakers probe into corruption
A South Korean special prosecutor summoned Choi who allegedly exploited her connections with Park to extort money and favors from the country's largest companies and manipulate government affairs from the shadows.
By AFP, Seoul
UPDATED ON DEC 26, 2016 01:38 PM IST
The woman at the heart of the impeachment crisis surrounding South Korean President Park Geun-Hye refused to leave her jail cell on Monday for questioning by lawmakers who had convened a special hearing at her detention centre.
Choi Soon-Sil, a long-time friend of the president, has repeatedly snubbed a parliamentary committee probing a corruption scandal that triggered Park's impeachment earlier this month.
Currently on trial for extortion and abuse of power, Choi had ignored several summons to attend the committee's hearings in the National Assembly -- prompting the lawmakers to come to her.
A special, televised hearing was convened in the detention centre where Choi is being held on the outskirts of Seoul, but lawmakers were left with little to do but vent their frustrations after she refused to leave her cell.
Two former top presidential aides being held in a separate facility also refused to appear for questioning.
"It's regrettable that the witnesses disregarded the authority of the people and the parliament by ignoring their obligation to attend," said committee chairperson Kim Sung-Tae.
There are no legal grounds for forcing witnesses to attend a parliamentary hearing, although they can be held in contempt and face a maximum five-year prison term for not doing so.
"Choi Soon-Sil is at the core of the parliamentary probe," said Jung You-Sub, a lawmaker from Park's ruling Saenuri Party.
"Her reasons for not attending are not justified. The people want to hear the truth," Jung said.
Choi had been questioned on Sunday by special prosecutors investigating the extent of the president's alleged collusion with Choi in shaking down a number of major conglomerates to provide "donations" to two foundations she controlled.
Choi denied new allegations that she had stashed around 10 trillion won ($8.3 billion) abroad.
The National Assembly voted to impeach Park earlier this month, stripping away her substantial executive powers.
She remains president in name, pending a decision by the Constitutional Court on whether to ratify parliament's impeachment motion.
Earlier on Monday, prosecutors seized documents during an early morning raid on the central Seoul residence of Kim Ki- Choon, who served as Park's chief of staff between 2013-15.
Kim has a long association with Park's family, having also served her father - the late military strongman Park Chung-Hee who led the country for 18 years after seizing power in a 1979 military coup.
Close