SL reaffirms excellent relations with China post deferring visit by Chinese ship
Published on Aug 09, 2022 11:15 AM IST
The Sri Lankan side clarified its position after the Chinese foreign ministry expressed anger at Colombo's decision to withdraw the permission earlier given to the vessel Yuan Wang 5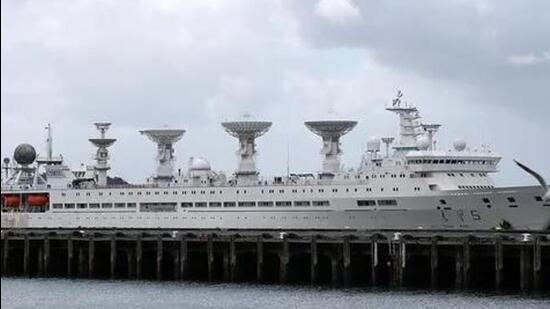 Sri Lanka on Tuesday said its "excellent relations" with China remain on a solid foundation even as it explained that it had deferred a proposal for a Chinese research vessel to call at Hambantota port because of the need for further consultations.
The Sri Lankan side clarified its position after the Chinese foreign ministry on Monday expressed anger at Colombo's decision to withdraw the permission earlier given to the vessel Yuan Wang 5 to call at Hambantota, and said it was "completely unjustified for certain countries" to cite security concerns to pressure Sri Lanka.
Yuan Wang 5 is a third-generation vessel of the Yuan Wang series, which are used by the People's Liberation Army (PLA) to track satellites and ballistic missiles. The vessel, equipped with powerful radars and surveillance equipment, was earlier scheduled to call at Hambantota port, which is controlled by China, on August 11 for replenishment.
Also Read: Ties with Beijing ties won't affect India relations: Sri Lanka's GL Peiris
Diplomatic clearance for the Yuan Wang 5 to make a call at Hambantota port during August 11-17 for replenishment was conveyed to the Chinese embassy in Colombo on July 12, Sri Lanka's foreign ministry said in a statement.
"Subsequently in light of the need for further consultations, the Ministry has communicated to the Embassy of the People's Republic of China in Colombo to defer the visit of the said vessel to the Hambantota port," it said.
Sri Lanka's foreign ministry reaffirmed the "enduring friendship and excellent relations between Sri Lanka and China which remain on a solid foundation, as reiterated most recently by the two Foreign Ministers Ali Sabry and Wang Yi at a bilateral meeting in Phonm Penh, Cambodia, on 4 August, 2022," the statement said.
Sabry had referred to Sri Lanka's firm commitment to the "one-China" policy, which has been a consistent principle in the country's foreign policy.
Experts believe the Yuan Wang 5's surveillance equipment can be used to scan India's coastal defence facilities, and the Indian side had conveyed its opposition to the ship's visit to the Sri Lankan government earlier this month. The external affairs ministry's spokesperson had also given a "clear message" that the government monitors all developments with a bearing on India's security and economic interests and "takes all necessary measures to safeguard them".
The docking of two Chinese submarines and a naval supply vessel at Colombo in 2014 had become a diplomatic flashpoint between Sri Lanka and India, and New Delhi had strongly protested against the move. Over the years, the Chinese navy has also developed strong ties with its Sri Lankan counterpart.
A new frigate built by China for the Pakistan Navy, PNS Taimur, is currently expected to make a call at Colombo port during August 12-15 while on its maiden voyage from Shanghai to Karachi.
Personalise your news feed. Follow trending topics