Texan from India beats Texan from India to win Spelling Bee
Karthik Nemmani, 14, beat Naysa Modi, 12, to win the Bee, continuing the winning spree of Indian Americans who have triumphed every championship since 2008.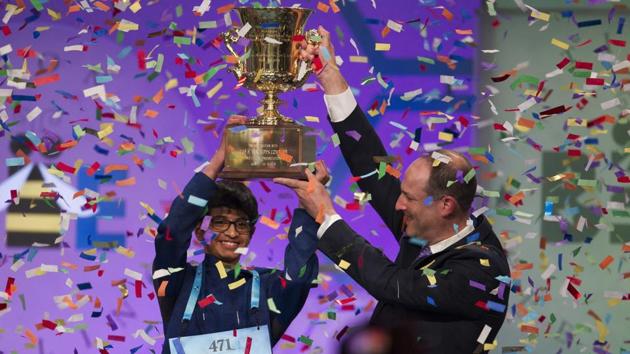 Updated on Jun 01, 2018 08:03 PM IST
Hindustan Times, Washington | By Yashwant Raj
, Washington
In the end, it was between two Texans whose parents came to the United States from India.
Karthik Nemmani, 14, beat Naysa Modi, 12, to win the Scripps National Spelling Bee 2018, continuing the winning spree of Indian Americans who have won every championship for the past decade.
He spelt "koinonia", a Greek-origin word defined as "intimate spiritual communion and participative sharing in a common religious commitment and spiritual community", to win what has been described as the most challenging Spelling Bee with an unprecedented 516 contestants.
"I had confidence, but I didn't think it would really happen," said the new champion, an eighth-grader, adding he knew the word as soon as he heard it.
But before lifting the trophy or hugging his family members who charged towards him from the audience, he walked up to shake hands with Modi, a fellow Texan who had beaten him in the regional contest and had been a tough competitor.
Nemmani would not have made it to the finals if not for the introduction of a new rule known as RSVBee, which opened up the competition to those who did not win the regional or state championships but had come second, or won their school bee, or participated in a national bee before.
A record-shattering 516 spellers qualified, compared with 291 the year before.
Nemmani, who seemed unflustered for most part of the night in what was his first shot at the championship, sailed through by spelling words that most people have never heard or will ever hear: "condottiere" (a leader of a band of mercenaries common in Europe between the 14th and 16th centuries), "cendre" (azurite blue), and "ankyloglossia" (limited normal movement of the tongue).
He told Bee Week, a Spelling Bee news publication, that there were only about six words that he didn't know all day. When he didn't know a word, he figured it out using language patterns.
In all, 20 of the 96 Bee winners to date have been Indian American children, an incredible 20%; 18 of them have been winners in the last 19 years alone. And there were more than 130 Indian Americans among the 516 competing for the crown this year.
The hold of the tiny community – 4 million people, or less than 1% of the population of the US – on the championship continues, but in a sign of changing times, their victories are not reported any longer by the US press as that of the first winner from the community, Balu Natarajan, in 1985.
New reports of Natarajan's win at the time were headlined as that of the child of immigrants, and his winning word "milieu" was used to draw out the uniqueness of the feat.
Contrast that to Nemmani's victory, which was reported with regular headlines, such as the one on CNN: "Texas teen wins National Spelling Bee." There was no mention of his family's origins or that of Modi's, his rival from Texas.
Dallas Morning News, a Texas daily, proudly noted the Bee had been a 1-2-3 finish for Texans on Thursday night: Nemmani, Modi and Abhijay Kodali.
Nemmani will take home a trophy, $40,000 in prizes, a $25,000 cash prize, a reference library from Merriam-Webster, and trips to New York and Hollywood. Modi will get $30,000 and Kodali $20,000.
Close Story