Thai women start #DontTellMeHowToDress campaign after govt's 'don't dress sexy' advice
Updated on Apr 14, 2018 12:28 PM IST
Thai women kick start #DontTellMeHowToDress campaign after government's advice to dress conservatively during Thai New Year celebrations.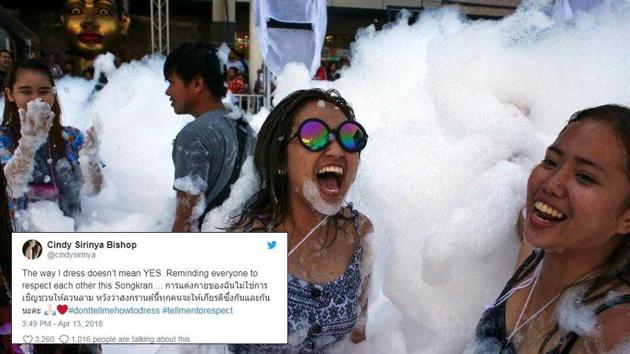 Women in Thailand have taken to social media to share stories of sexual harassment, angered at an official's suggestion that they cover up to avoid being assaulted at a popular water festival.
Often dubbed the "world's biggest water fight", the annual Songkran celebration - which marks Thai New Year - see Thais and tourists alike take part in boisterous street water-fights armed with water pistols and buckets.
Songkran is observed for three days from Friday.
Using the hashtag #DontTellMeHowToDress, women have told how they were groped and harassed at Songkran in previous years.
"This is the first time women are saying enough is enough," said Thai-American model and TV host Cindy Bishop, who started the #DontTellMeHowToDress campaign.
"We are protesting against sexual assault, and women are standing up to say we should dress how we feel," she told the Thomson Reuters Foundation by phone from the Thai seaside town of Pattaya on Friday.
Nearly 60 percent of women said they had been groped during Songkran and only a small number reported these incidents to police, according to a survey of 1,650 women by Thailand-based Women and Men Progressive Movement Foundation this month.
Officials could not be reached for comment on Friday.
"Modest clothing doesn't protect women from sexual assault," a Thai woman posted on Twitter with the hashtag, which has gone viral in Thailand.
"These things need to be stopped," another Twitter user wrote, saying a reveller once fired at her breasts with a watergun.
Bishop said she was assaulted by a group of men at Songkran celebrations when she was a teenage girl over two decades ago.
"They basically put their hands all over me," said the 39-year-old, who has hosted the reality TV show Asia's Next Top Model.
"It has become such a problem because it's hard to point fingers. It's hard in that situation when everyone is having a good time," she said, urging authorities to step up enforcement and issue warnings to revellers against sexual harassment.
The past year has been pivotal for women's rights after accusations of sexual misconduct by Hollywood mogul Harvey Weinstein sparked the #MeToo campaign, with women taking to social media and the streets to highlight experiences of abuse.
Personalise your news feed. Follow trending topics