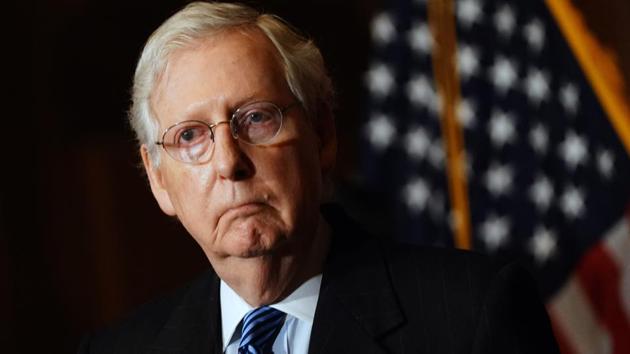 Top Republican breaks with Donald Trump, congratulates Joe Biden
Senate majority leader Mitch McConnell congratulated President-elect Joe Biden and vice-president-elect Kamala Harris on their election win, a day after their victory was cemented by an electoral college vote
Hindustan Times, Washington, DC | By Yashwant Raj
UPDATED ON DEC 15, 2020 11:32 PM IST
Mitch McConnell, the top Republican in the US Senate, congratulated President-elect Joe Biden and vice-president-elect Kamala Harris on their election win on Monday, the day after their victory was cemented by an electoral college vote.
McConnell, who heads the Republican-controlled Senate as majority leader, is the first elected official of the Republican Party to acknowledge Biden's election as president, signalling a break with President Donald Trump, who has refused to accept his defeat.
"The electoral college has spoken. So today, I want to congratulate President-elect Joe Biden," McConnell said on the floor of the Senate, and went on to congratulate Harris, adding, "Beyond our differences, all Americans can take pride that our nation has a female vice-president-elect for the very first time."
Only a handful of Republicans have acknowledged Biden's victory, so as to not upset the president, including Senator Mitt Romney. House minority leader Kevin McCarthy, the top Republican in the Democratic-controlled House of Representatives, has still not congratulated Biden.
In a speech after the electoral college victory, Biden had for the first time shown impatience with Trump and his Republican allies' refusal to accept the election's outcome, and slammed them for launching an "assault on democracy" over their efforts to overturn the election result.
Close