Trump instructs US military to draw up plans to leave Syria, says report
Apr 04, 2018 09:34 PM IST
The White House has said that the US remains committed to eliminating the "small" Islamic State presence left in Syria.
President Donald Trump is reported to have instructed the US military to draw up plans for leaving Syria, according to a news report.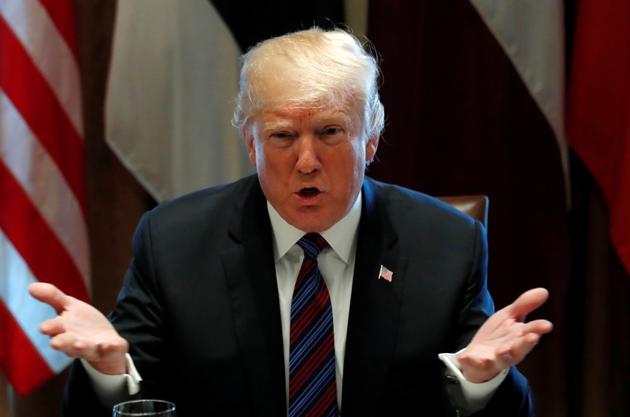 Trump has been hinting the same for days, and according to The Washington Post, he met with military commanders on Tuesday to discuss the future of the mission. However, the report said no dates have been set and the pull-out of the 2,000 troops in Syria will not be complete — some will stay back for anti-Islamic State operations and to train local forces for securing areas liberated from the terror group, the Post reported citing unidentified administration officials.
On Wednesday, White House press secretary Sarah Huckabee Sanders followed up with a statement, saying the "military mission to eradicate ISIS in Syria is coming to a rapid end, with ISIS being almost completely destroyed", using another name for Islamic State.
However, she did not say if Trump had asked for a withdrawal plan. She added, instead, that the US remains committed to eliminating the "small" IS presence left and "will continue to consult with our allies and friends regarding future plans".
She also added that the US expects "countries in the region and beyond, plus the United Nations, to work toward peace and ensure that ISIS never re-emerges".
Trump has argued that the US has spent $7 trillion in the Middle East over the past 17 years but has not gained anything in return. That amount presumably includes expenses incurred on the war in Afghanistan.
While Trump has seemed keen to leave Syria, his military leaders and diplomats have stressed that the task is not over yet. "A lot of very good military progress has been made over the last couple of years, but the hard part, I think, is in front of us," said Gen Joseph L Votel, head of US Central Command, at a think tank on Tuesday.