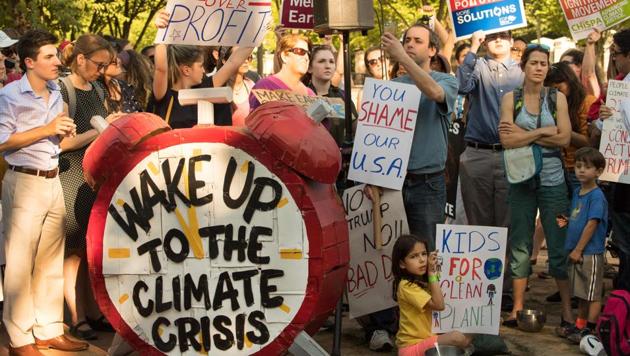 Trump pulls out of Paris climate deal: Why the India, China excuse will not fly
World leaders and experts have said that there can be no fresh talks on a deal that took three years to negotiate. Most world powers said they will honour the climate accord even if US does not
Hindustan Times, New Delhi/Washington | By HT Correspondents
UPDATED ON JUL 13, 2017 11:39 PM IST
US President Donald Trump named India and China among chief reasons for his decision to pull out of the Paris Accord, a landmark international agreement struck to cut greenhouse gases.
"China will be able to increase these emissions by a staggering number of years – 13. They can do whatever they want for 13 years. Not us. India makes its participation contingent on receiving billions and billions and billions of dollars in foreign aid from developed countries", Trump said on Thursday, describing what he said was "unfair, at the highest level".
"But will we start to negotiate and we will see if we can make a deal that's fair. And if we can, that's great. And if we can't, that's fine."
Fresh negotiation on the issue,though, is almost impossible.
NYT quoted Christiana Figueres, a former UN official who led the negotiations, as saying that Trump's remarks "underscored a lack of understanding of how international agreements work". "You cannot renegotiate individually," she said. "It's a multilateral agreement. No one country can unilaterally change the conditions."
A relook was also ruled out by world leaders. Germany and Italy issued a joint statement expressing "regret" and rejecting Trump's assertion that he would renegotiate the deal. China made it a point to say it would stay in the accord.
Signed in 2015, the Paris Accord came at a time scientists urged now-or-never measures to combat global warming. That year, and the year after that, turned out to be the hottest on record.
The agreement took nearly three years to negotiate, with countries fighting to ensure each bore the least cost of climate change while balancing tangible steps that were must.
India and China were able to protect their interests by ensuring that they do not have to take any emission cuts and reduce emissions from coal-fired plants by way of differentiated responsibility for historical emitters, rich nations such as the United States.
The two countries also defied pressure from rich nations to pay for climate change mitigation, funds that would go to the most vulnerable countries and for technologies that will make the environment cleaner. They argued that they were among the most-affected countries.
But unlike Trump's assertions, India and China too agreed to compromises.
They agreed to lower emission reduction goals for rich nations, which received support from small island nations and certain African countries.
Beijing and New Delhi also agreed to a review of their climate mitigation targets every five years, a first mechanism for a global environmental convention.
The Paris agreement also for the first time set mitigation targets from all nations, unlike its predecessor Kyoto protocol where only the rich nations were required to take action to save the world from green house gases.
The impact of the US exit on global warming will be severe. Climate Interactive, which tracks global emissions and pledges, estimates that if US doesn't reach its Paris Accord goal, an additional 0.3°C will be added to global warming by the end of the century.
Close