Trump's personal lawyer arranged $1.6 million payoff to Playboy Playmate: Source
The payoff was reportedly arranged to keep secret Republican fundraiser and Trump ally Elliott Broidy's affair with a Playboy Playmate.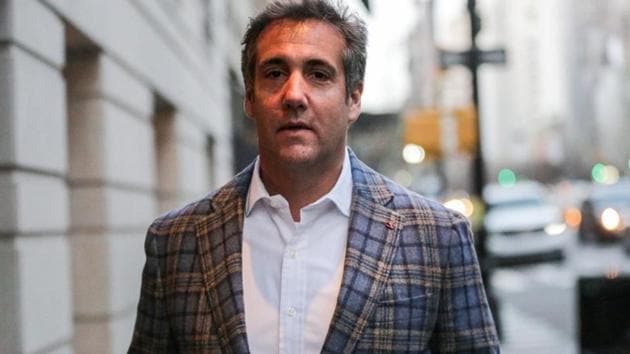 Updated on Apr 14, 2018 01:01 PM IST
Reuters, Washington |
Reuters
US President Donald Trump's personal lawyer arranged for a $1.6 million payment to a Playboy Playmate to keep secret her sexual relationship with Republican fundraiser and Trump ally Elliott Broidy, during which she became pregnant, a person familiar with the matter said on Friday.
Michael Cohen, whose home and office were raided this week by FBI agents searching in part for information about payoffs to women alleging sexual encounters with Trump, handled the matter on behalf of Broidy.
The person, who spoke on condition of anonymity, was confirming a report by the Wall Street Journal.
The woman's name has not been made public and the source declined to disclose it.
Cohen has been at the centre of a controversy over a $130,000 payment he has admitted making shortly before the 2016 election to porn star Stormy Daniels, who has said that she had sex once with Trump in 2006 and was paid to keep quiet about it.
A former Playboy model, Karen McDougal, has described having a 10-month affair with Trump, which the White House has said Trump denies. McDougal said her lawyer at the time secretly negotiated with Cohen on a deal with American Media Inc, publisher of the National Enquirer, which paid her $150,000 in 2016 to keep quiet.
Broidy acknowledged in an emailed statement on Friday that he had a relationship with a Playboy Playmate and offered to help her financially after she told him she was pregnant.
"She alone decided that she did not want to continue with the pregnancy and I offered to help her financially during this difficult period. We have not spoken since that time," Broidy said in the statement.
Broidy, a former national vice chair of the Trump campaign, resigned on Friday as deputy finance chair of the Republican National Committee, according to a person familiar with that matter.
Broidy said Cohen reached out to him after being contacted by the woman's attorney, Keith Davidson. Broidy said he retained Cohen because Cohen had a prior relationship with Davidson.
Cohen and Davidson did not immediately respond to requests for comment.
Cohen used the same pseudonyms in a non-disclosure agreement between Broidy and the Playmate that he used in a similar agreement that involved Trump and Daniels, whose real name is Stephanie Clifford.
In this case, Broidy was known as David Dennison and the Playboy model was described as Peggy Peterson.
Broidy agreed to pay the $1.6 million over two years, and completed the first instalment in December, the person said.
The news is the latest damaging revelation about Broidy.
He filed a lawsuit in Los Angeles federal court last month, accusing the Gulf nation of Qatar of stealing and leaking emails to reporters in retribution for Broidy's attempts to influence the Trump administration in favour of regional rivals of Qatar.
Broidy pleaded guilty in 2009 in New York as part of a "pay-to-play" scheme involving the state pension fund.
In that case, he admitted he made nearly $1 million in gifts for New York state pension fund officials. Markstone Capital Partners, a private equity firm he founded, received $250 million of pension fund money to manage.
His felony was later reduced to a misdemeanour, and he was spared jail time, but paid $18 million to the state in restitution.
Close Story