Porn star Stormy Daniels opens up on her fling with Trump: "He told me I remind him of his daughter"
Stormy Daniels recounted an encounter with Donald Trump at his hotel suite in 2006 that she said was the only time they had sex.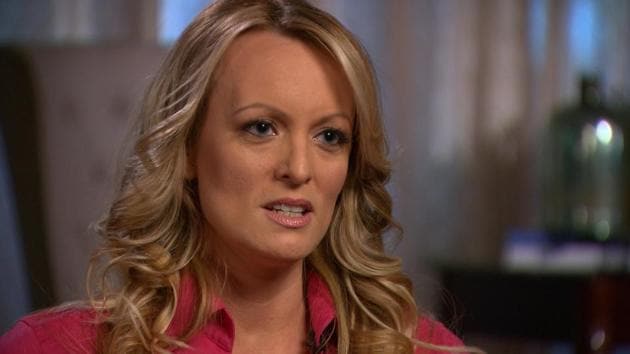 Updated on Mar 26, 2018 09:54 AM IST
Agence France-Presse, Washington |
, Washington
Agence France-Presse
Porn actress Stormy Daniels said she was threatened in a bid to keep her silent about her alleged fling with Donald Trump, which she detailed in a highly-anticipated primetime TV interview broadcast Sunday.
She is seeking to be released from a non-disclosure agreement she signed 11 days before the 2016 presidential election that brought Trump to power, for which she was paid $130,000 -- leading to allegations that the payment amounted to an illicit contribution to his campaign.
Trump had never asked her to keep their 2006 sexual encounter secret, but that changed when she agreed to sell her story to a magazine for $15,000 in 2011, Daniels said.
"I was in a parking lot, going to a fitness class with my infant daughter. Taking, you know, the seats facing backwards in the back seat, diaper bag, you know, gettin' all the stuff out," she said.
"And a guy walked up on me and said to me, 'Leave Trump alone. Forget the story.' And then he leaned around and looked at my daughter and said, 'That's a beautiful little girl. It'd be a shame if something happened to her mom,'" Daniels said.
Cooper asked: "You took it as a direct threat?"
"Absolutely," Daniels said.
"I was rattled, I remember going into the workout class and my hands were shaking so much I was afraid I was gonna drop her," she said of her daughter.
Magazine spanking
Daniels recounted an encounter with Trump at his hotel suite in 2006 that she said was the only time they had sex.
The conversation "started off all about him, just talking about himself," with Trump asking if Daniels had seen his picture on the cover of a magazine, she said.
"I was like, does this, does this normally work for you? And he looked very taken back."
She told him: "Someone should take that magazine and spank you with it."
She took the magazine and told Trump to drop his pants, which he did -- with underwear still on -- "and I just gave him a couple swats," said Daniels.
The real estate mogul "was a completely different person" after that, and he stopped talking about himself.
Trump told her, "'Wow, you, you are special. You remind me of my daughter.' You know, he's like, 'You're smart, beautiful and a woman to be reckoned with,'" she said.
Daniels said she and Trump had unprotected sex, despite the fact that she was not attracted to a man who was over 30 years her senior.
But "I didn't say no. I'm not a victim," Daniels said.
She stayed in contact with Trump after the encounter because the tycoon said he would try to get her on "The Apprentice," the reality TV show he hosted at the time.
"I thought of it as a business deal," she said.
'I'm telling the truth'
Daniels said her main motive for speaking out now was to set the record straight.
"I'm not okay with being made out to be a liar," she insisted.
Asked what she would say to Trump if he were watching the interview, she said: "He knows I'm telling the truth."
While Trump has been uncharacteristically quiet about the alleged fling, the White House has denied any sexual encounter between him and Daniels.
Trump arrived back at the White House shortly before the interview aired on Sunday. First Lady Melania Trump remained in Florida for spring break.
Daniels did not discuss evidence to back her encounter with Trump, the possibility of which was teased by her lawyer prior to the interview.
Michael Avenatti posted a picture on Twitter of a computer disc along with the text: "If 'a picture is worth a thousand words,' how many words is this worth????? #60minutes #pleasedenyit."
Avenatti filed a lawsuit on behalf of Daniels -- whose real name is Stephanie Clifford -- earlier this month seeking to toss out non-disclosure agreement, for which she was paid by Trump's personal lawyer, Michael Cohen.
Cohen claimed that Daniels is liable for at least $20 million for violating the agreement -- $1 million for each time she did so, in a court filing made prior to the CBS interview.
"This is about the cover-up," Avenatti said on "60 Minutes."
"This is about the extent that Mr Cohen and the president have gone to intimidate this woman, to silence her."
Close Story