UK evacuated over 300 Britons, 2,000 Afghans: PM Boris Johnson
"We have so far secured the safe return of 306 UK nationals and 2,052 Afghan nationals as part of our resettlement programme," UK Prime Minister Boris Johnson said on Wednesday.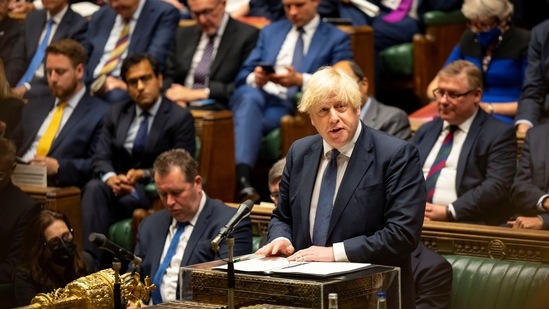 Published on Aug 18, 2021 07:30 PM IST
Written by Srivatsan K C | Edited by Avik Roy
, Hindustan Times, New Delhi
The United Kingdom has so far evacuated more than 300 British nationals and over 2,000 Afghan citizens, Prime Minister Boris Johnson told the Parliament on Wednesday. Johnson made the remarks during his address to the Parliament which has been recalled to discuss the crisis situation in Afghanistan.
"We have so far secured the safe return of 306 UK nationals and 2,052 Afghan nationals as part of our resettlement programme," news agency AFP quoted the British PM as saying on Wednesday. He also said that the applications of 2,000 more Afghan nationals have been completed and "many more" were being processed.
Also read | Taliban to be judged on action, not words: UK PM Boris Johnson
The remarks came even as many countries are scrambling to evacuate their citizens, diplomats and refugees from Afghanistan. More than 2,200 officials and civilians have been evacuated from Afghanistan in military flights, news agency Reuters reported on Wednesday, citing an unnamed security official. Also, the Taliban militants had established security checkpoints around the Kabul international airport raising concerns about the safety of the people trying to flee the country, Bloomberg reported. However, a Taliban leader had said that the checkpoints are only to ensure security and to avoid people from rushing inside the airport, as it was seen on Monday, Bloomberg further reported.
Meanwhile, Johnson announced that the UK would deploy an additional 800 troops to support the evacuation process. He assured that his government "will continue this operation for as long as conditions at the airport allow," news agency ANI reported. He also said that the humanitarian and development assistance given by the UK to Afghanistan would be doubled.
Briefing his plans for the relocation of Afghan refugees to the UK, Johnson said that up to 20,000 Afghans would be resettled in Britain over the years, starting with 5,000 people in the first year. "I can announce today that we are committing to relocating another 5,000 Afghans this year, with a new and bespoke resettlement scheme focusing on the most vulnerable, particularly women and children, and we will keep this under review for future years, with the potential of accommodating up to 20,000 over the long-term," news agency PTI quoted him as saying.
A spokesperson for Johnson on Wednesday said that the UK is aiming to airlift 1,000 people every day from Afghanistan following the Taliban's takeover of the country.
Close Story