US holding talks with India on Russian energy price caps: Sullivan
Published on Jun 28, 2022 10:04 PM IST
The move by the club of rich nations on the concluding day of their three-day summit in the Bavarian Alps comes as part of a broader push to choke off the profits Russia makes from energy exports that are helping to fund its invasion of Ukraine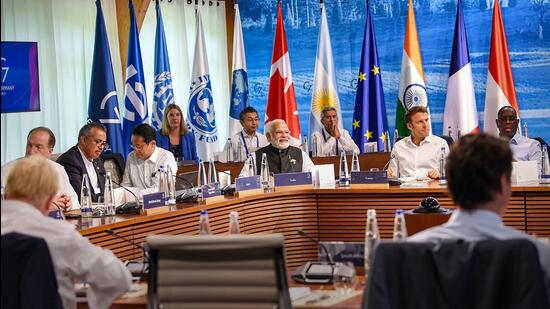 The United States has begun discussions with India on the modalities and implications of a price cap on Russian energy imports, national security adviser Jake Sullivan said on Tuesday.
At their summit meeting in Germany this week, G7 leaders floated the idea of imposing price caps on Russian energy imports and instructed their concerned ministers to work out the details. The move is a part of the West's effort to meet dual objectives: deprive Russia of revenue from energy exports - seen as a key source of its war financing efforts in Ukraine, while ensuring that the global energy market stabilises, given the inflationary pressures caused by galloping energy prices across the world.
When asked if President Joe Biden had spoken to Prime Minister Narendra Modi about the issue — both leaders were at the G7 meet and while they did not have a formal bilateral exchange, they interacted informally — Sullivan told reporters aboard Air Force One, as the president made his way to Spain for a Nato summit, that the task of determining how a price cap will work requires intense engagement with consuming countries.
"India is one of those countries. That engagement has begun. We have begun talks with India about how a price cap would work and what the implications of it would be. And I will leave it at that because, of course, those are ongoing diplomatic discussions," he said.
Pressed again on whether Biden and Modi had spoken about the issue, the NSA said they had not but referred to engagements at other levels.
"The President did not speak with Prime Minister Modi about this yesterday, but at senior levels of the US government, we had communications with the Indians yesterday. Before it goes to leader-to-leader level, we need to work through the details with their team at basically the Cabinet level, which is where it is right now. And then, if necessary, it can be elevated."
On Monday, Sullivan had explained the roots of the idea of the price cap and how it may be implemented. He claimed there was an absolute consensus among G7 countries that the purpose of sanctions was to deny Russia revenue from energy exports, while ensuring a stable energy market, and a price cap was seen as a way to achieve that. But he acknowledged this was a "novel concept".
"How do you implement it working with consuming countries and with the private sector? What are the details? What are the methods of execution? That requires technical work that has to be done by ministers — energy ministers and finance ministers — in order to develop an actual executable cap that then goes into effect," the US NSA said.
Another senior US administration official hinted at the possible methods through which G7 is exploring implementing the price cap.
"We collectively have a set of tools that can go to the services that are provided to allow Russian oil to be transported elsewhere in the world. And by zeroing in on those services and the way in which they are provided — and particularly, potentially, through the mechanism of a price gap — there is an ability to achieve both of those objectives simultaneously."
Reports have indicated European countries may refuse to pay above a specified price for Russian gas — based on the assumption that Russia would have to sell it anyway — and a London-based company which insures almost all of Russian oil tankers may be warned of sanctions if it allows oil to be sold at a higher than specified price.
A person familiar with the conversations on the issue said that it was too early to judge how this will affect either energy market or India's choices — in the absence of clarity on the nature of price caps, how it will be implemented, whether it will be a part of a wider sanctions package (energy imports from Russia are not a part of the wider sanctions imposed by the West, but have been left to individual countries), and Russia's response to these price caps.
The latest rounds of India-US conversations on Russia and energy are happening even as Washington is concerned about India's acceleration of Russian imports. Media reports in Washington DC and New York have consistently painted India's imports — along with China, a much bigger consumer of Russian energy — as helping finance Russian war efforts.
But India has made it clear that it will do what it needs to do to manage its energy security at a time of rising inflation. The fact that US actions have kept key suppliers such as Iran and Venezuela out of the market, and OPEC only recently agreed to enhance production with the US unable to persuade Saudi Arabia to do so for the first few months after the war, added to India's determination to explore all sources in this quest. External affairs minister S Jaishankar has also pointed to Europe's hypocrisy in this regard: where European imports of Russian gas contributes far more to Russian coffers than any spurt in Indian imports.
These differences, however, have not yet affected the broader bilateral relationship. As NSA and an old aide of Biden, Sullivan is seen as one of the primary architects of the administration's Ukraine as well as Indo-Pacific strategies. He has been a part of all of Biden's bilateral engagements with Modi, and at a thinktank event earlier this month in Washington DC, placed the differences between India and the US on Russia in historical context.
"It is certainly a difference in perspective that we have to be direct with our Indian counterparts about — how we view the situation, how we would encourage them to over time take a different perspective themselves. But they are a sovereign, democratic nation. They will make their own decisions. We are not here to lecture them or insist on a certain outcome or else," he said on June 16.
Close Story
Personalise your news feed. Follow trending topics