US moves to cancel Pakistan aid worth $300 million for 'lack of decisive actions'
The US had announced a freeze on aid to Pakistan at the beginning of the year as it pushed the country to crack down on terrorist activities originating from its soil.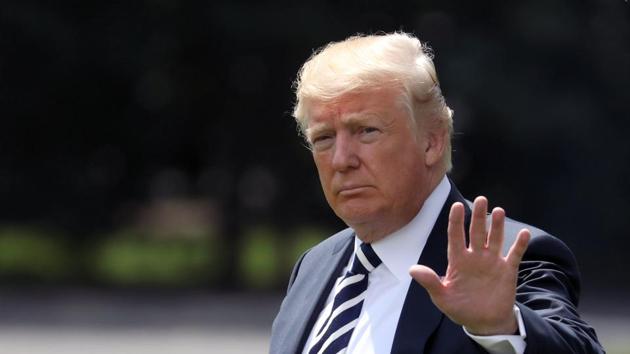 Updated on Sep 02, 2018 10:59 PM IST
Hindustan Times, Washington |
Yashwant Raj
The United States military has moved to cancel $300 million in security-related aid to Pakistan, following repeated rebuke to the nation for providing a safe haven to terrorists, days before US Secretary of State Mike Pompeo's visit to Islamabad for a meeting with newly elected Prime Minister Imran Khan.
The Pentagon said late on Saturday that the decision had been taken due to Pakistan's lack of "decisive actions" in support of American strategy in the region. US officials have accused Islamabad of overlooking the presence of terrorist groups such as the Haqqani network and Lashkar-e-Taiba on its soil.
Pompeo is scheduled to visit Islamabad en route to India for the inaugural 2+2 meeting this week. The chairman of the joint chiefs of staff Joseph Dunford will accompany him to Pakistan, as they become the first senior US officials to meet the Pakistan premier since his swearing-in ceremony last month.
"Due to a lack of Pakistani decisive actions in support of the South Asia Strategy, the remaining $300 (million) was reprogrammed," Pentagon spokesperson Lieutenant Colonel Kone Faulkner said in a statement.
Pentagon proposes to use the money, which came from the security-related Coalition Support Fund (CSF), for other purposes, if approved by Congress. It has asked the US Congress, which holds the government's purse strings, to reprogramme the cancelled aid to be spent on other "urgent priorities", as it stands to lapse on September 30. Faulkner $500 million in CSF was cancelled by Congress earlier this year, taking up the total funds withheld this year to $800 million.
Pakistan foreign minister Shah Mehmood Qureshi said on Sunday that the matter of suspension of aid will be taken up during Pompeo's visit to the country.
He said the money blocked by the US military was part of reimbursement for losses Pakistan suffered while leading the fight against terrorism. "I once again stress that it was no aid that was cancelled. It was all our money that we spent and they were merely reimbursing it," Qureshi said at a news conference. "We will try to improve ties between the two countries. We will listen to him (Pompeo) and present our point of view to him as well."
The US had announced a freeze on aid to Pakistan at the beginning of the year as it pushed the country to crack down on terrorist activities originating from its soil. The move had come just days after an angry New Year Tweet by US President Donald Trump accused Pakistan of giving the US only "lies & deceit" in return for $33 billion in aid over the last 15 years. "They give safe haven to the terrorists we hunt in Afghanistan, with little help. No more!" he had said.
"We continue to press Pakistan to indiscriminately target all terrorist groups," Faulkner said on Saturday, adding that the latest aid cut request was pending congressional approval.
The timing of the cancellation of the $300 million in aid comes at a delicate point for US-Pakistan relations. The Trump administration has shown no willingness to ease pressure on Pakistan.
"This is a predictable and unsurprising decision. The Trump administration has telegraphed its unhappiness all year about Pakistan's lack of efforts to close down the safe havens of Afghanistan-focused terrorists on its soil," said Michael Kugelman, a South Asia expert at Wilson Center, a leading US think-tank.
"The US may be sending a strong message that when Pompeo comes to Islamabad, he will be very serious about discussing the terrorism issue, and that the US is quite prepared to tighten the pressure if it feels Pakistan is not addressing the issue," he added.
Islamabad recently sought to dispute a US readout of a phone call between Pompeo and PM Khan, insisting that terrorism did not come up during the discussions. The US later said it was standing by the readout, refusing to "make a correction" as demanded by Pakistan.
Khan has in the past blamed Pakistan's participation in the US-led anti-terror campaign for the surge in terrorism at home. There was little mention of the issue of terrorism in his maiden speech as the Pakistan Prime Minister.
US Secretary of Defense James Mattis said earlier this week that in their discussions during their upcoming Islamabad visit, Pompeo and Dunford will make clear "what we have to do, all of our nations, in meeting our common foe, the terrorists. And make that a primary part of the discussion".
From next year, the US military will cease to extend any aid under CSF, and switch Pakistan and other beneficiary countries such as Egypt, Jordan and others to funds set aside for border security, and the amount earmarked for Pakistan for 2019 is $50 million, as first reported by Hindustan Times.
Topics
Close Story