"Very, very sad moment," Global leaders express concern on shooting of Japan's former PM Shinzo Abe
Published on Jul 08, 2022 09:42 AM IST
According to Japan's Kyodo News, Abe was showing 'no vital signs' and appeared to be in cardiac arrest after being shot. Reuters said that Abe was shot in his chest. Police have arrested the shooter.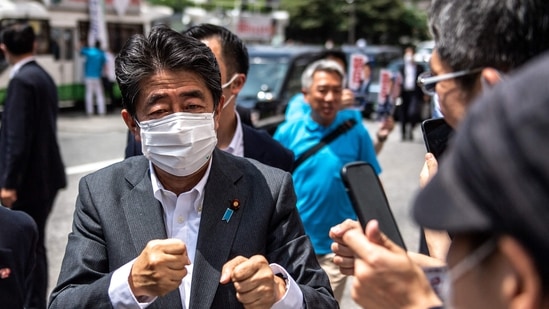 Prime Minister of Fumio Kishida on Friday addressed the media after former PM Shinzo Abe was reportedly shot at while delivering a speech. "(It) is a despicable act of barbarity that occurred when an election, which is the basis of democracy, is being held and is totally unacceptable," he was quoted as saying by the Japan Times. "I have been informed that doctors are doing everything they can and at this moment, I am hoping & praying that former PM will survive this," he added.
US Secretary of State Antony Blinken also voiced alarm and sadness after the shooting of Shinzo Abe, a longtime ally of Washington. "This is a very, very sad moment," Blinken told reporters at a G20 meeting in Bali, saying the United States was "deeply saddened and deeply concerned".
Former Japanese prime minister Shinzo Abe is reported critical after being shot at while delivering a speech in western Japan, local media reported.
Latest updates on Shinzo Abe here
The United States Ambassador to Japan Rahm Emanuel said that US is "saddened and shocked" by the shooting of Japan's former prime minister Shinzo Abe. "Abe-san has been an outstanding leader of Japan and unwavering ally of the United States," Emanuel said in a statement as per news agency Reuters. "The U.S. government and American people are praying for the well-being of Abe-san, his family, and the people of Japan."
Former US president Donald Trump also expressed shock on the news. "Shooting of former PM Abe is absolutely devastating. Praying for him," he said on social media.
UK's Boris Johnson tweeted that he was 'appalled and saddened' by 'despicable' attack on former Japan PM Abe.
ALSO READ | On camera: How former Japanese PM Shinzo Abe was attacked from behind
Prime Minister of Australia Anthony Albanese also expressed shock on the news. "Shocking news from Japan that former PM Shinzo Abe has been shot - our thoughts are with his family and the people of Japan at this time," he tweeted.
Teuku Faizasyah, Indonesia's foreign ministry spokesman on behalf of Foreign Minister Retno Marsudi, said in a statement: "The minister has expressed her sympathies in the name of G20 foreign ministers to the Japanese foreign minister."
In a Facebook post, Taiwanese president Tsai Ing-wen said that Abe is not only a good friend of mine, but also a staunch friend of Taiwan's. "I believe everyone is as surprised and sad as I am. Taiwan and Japan are both democratic countries with rule of law. On behalf of my government, I would like to severely condemn violent and illegal acts," she wrote. "Former Prime Minister Abe is not only a good friend of mine, but also a staunch friend of Taiwan's. He has supported Taiwan for many years and spared no effort to promote the progress of Taiwan-Japan relations," Taiwanese politician added.
Abe was delivering a stump speech at an event ahead of Sunday's upper house elections when the apparent sound of gunshots were heard, national broadcaster NHK and the Kyodo news agency said. The man has reportedly been identified as Tetsuya Yamagami.
A suspect has also been arrested by the Japanese law enforcement agencies for attempt to murder, the report further added. The man appeared to be in his 40s and a gun had reportedly been confiscated.
Abe, 67, collapsed and was bleeding from the neck, a source from his ruling Liberal Democratic Party told the Jiji news agency.
(With inputs from news agencies)
Topics