Modi, who is visiting Tokyo during May 23-25 at the invitation of Prime Minister Fumio Kishida, will also hold bilateral meetings with his Japanese counterpart and US President Joe Biden.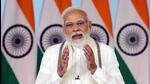 Japan's tourism industry, hit hard by the strict border controls, is eager for foreign tourism to resume. Covid-19 infections have slowed in Japan since earlier this year and the government is gradually expanding social and economic activity before opening up to foreign tourism

Japan's coastguard confirmed the launch of a ballistic missile by North Korea, citing its military. The projectile appeared to fall outside Japan's exclusive economic zone, public broadcaster NHK said.

Japan's Prime Minister Fumio Kishida recently indicated that a relaxation of border measures would allow back the first leisure visitors to Japan in more than two years. Still, a return to pre-pandemic tourist numbers of almost 32 million seems a long way off, even with the yen at a two-decade low.

Japan remains the world's third-largest economy, host to global heavyweights ranging from car manufacturers to games developers, and is a key link in global semiconductor supply chains.