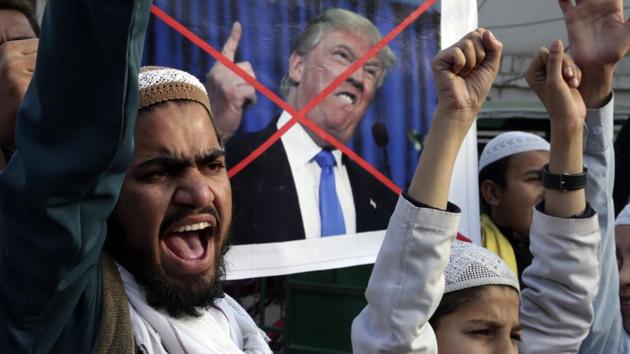 US suspends $2 bn security aid to Pak until it takes action against terrorists
The freezing of security assistance followed President Donald Trump's New Year's Day tweet that accused Pakistan of "lies and deceit" in the war on terror despite getting $33 billion in aid since 2002.
UPDATED ON JAN 05, 2018 11:54 PM IST
The US has suspended nearly $2 billion in security-related aid for Pakistan until it takes decisive action against terrorists operating from its soil, chiefly the Haqqani Network and Afghan Taliban, reflecting the growing mistrust between the former allies in the war on terror.
The US has not publicly specified the actions Pakistan needs to take to earn back the assistance, mostly extended to enable Islamabad to bolster its count-terrorism capabilities, including military hardware purchases with American funding.
Though the move to suspend the aid announced on Thursday was aimed at nudging Pakistan to act against the Taliban and Haqqani Network, a state department official said the US also has concerns about anti-India groups such as Lashkar-e-Taiba and Jaish-e-Mohammed.
Late on Friday night, an unnamed White House official was quoted by news agencies as saying that up to $2 billion in aid to Pakistan has been suspended.
The specific assistance impacted includes $255 million for fiscal 2016 under Foreign Military Funding (FMF), which provides Pakistan loans for defence purchases from the US, other unspent FMF funds from previous fiscal years and $900 million for fiscal 2017 from the Coalition Support Fund (CSF), which is reimbursement for supporting coalition forces in Afghanistan.
Civilian aid, which was worth $11 billion of the total of $33 billion since 2002, will continue unaffected.
The freezing of security assistance on Thursday followed President Donald Trump's New Year's Day tweet that accused Pakistan of "lies and deceit" in the war on terror despite getting $33 billion in aid since 2002.
"The bottom line is that we can't continue to have a relationship that has business as usual with Pakistan," a state department official said during a background briefing.
"There have been concerns about Pakistan's…I focused on the issue of sanctuaries for the Haqqani Network and the Taliban, but we have concerns about their nuclear program, we have concerns about the ability of anti-India groups like Lashkar-e Taiba and Jaish-e Mohammed to fundraise and operate, and Hafiz Saeed, the head of Lashkar-e Tayyiba, who was recently released from house arrest," the official added.
Asked about the total security assistance suspended, state department spokesperson Heather Nauert told a briefing, "We are still working through some of those dollar numbers right now."
"This decision reflects the President's conclusion that Pakistan has not taken the necessary decisive action, as requested by the US and as promised by Pakistan's leaders, against terrorist and militant groups in the region," said a White House memo, underscoring long-felt frustration.
The memo added: "Terrorists who threaten US interests and personnel continue to enjoy safe haven and support in Pakistan. The US has not seen tangible evidence that Pakistan is evicting or lawfully detaining Taliban and Haqqani Network leaders and operatives on its soil."
In a measured response, Pakistan's Foreign Office criticised "shifting goalposts" and said the US suspension of aid was counter-productive.
Foreign minister Khawaja Asif said the US had turned Pakistan into a "whipping boy" for its shortcomings in Afghanistan. "We do not have any alliance" with the US, Asif told a TV channel. "This is not how allies behave."
The US was not an ally but "a friend who always betrays", Asif said, accusing Trump of "speaking the language of India".
The Trump administration has said Pakistan can reclaim access to the frozen aid by taking specific actions required by the US which, it added, had been privately conveyed to the Pakistani leadership.
Pakistan has received $4 billion under the FMF head since 2002. CSF reimbursements are much higher, clocking in at $14.5 billion over the same period. The last payment of $550 million was made in March 2017, cleared by the Trump administration. This amount was due from the 2016 budget. Payments for 2017 and 2018 could be frozen.
The administration has stressed the suspension is "not a permanent cut-off at this time" and assistance funding and pending deliveries "will be frozen but not cancelled, as we continue to hope Pakistan will take the decisive action against terrorist and militant groups that we seek".
But it warned, "We do not intend to reprogram any funds at this time." Pakistan will not thus have an alternate route to access as it has in the past, occasionally.
There will be exceptions to the freeze, such as those mandated by law and those already in the pipeline. They will be processed on a case-by-case basis, officials said.
Critics of the suspensions wondered if it had really been thought through. "This is nothingburger (lame, dud)," said one of them on condition of anonymity. "Why does it not include, for instance, other security-related assistance heads such as International Military Education and Training (IMET) which is worth $5 million annually?"
Another critic, who also spoke on background, said he suspected Trump's New Year's day tweet — "which may have been a huge hit in India" — actually interrupted a revaluation of financial aid to Pakistan that has been on for a while, cutting across administrations.
"The folks in the administration had to come up with something to follow up the president's tweet," the person said. "And this is the best they could come up with, and the administration didn't have a dollar number for such a major announcement."
Close