US wants India to stop Iran oil imports by November 4, no waiver on sanctions
Updated on Jun 27, 2018 08:40 PM IST
A US official said the message has been delivered to allies including India that oil imports from Iran have to be stopped completely by November 4, when sanctions are implemented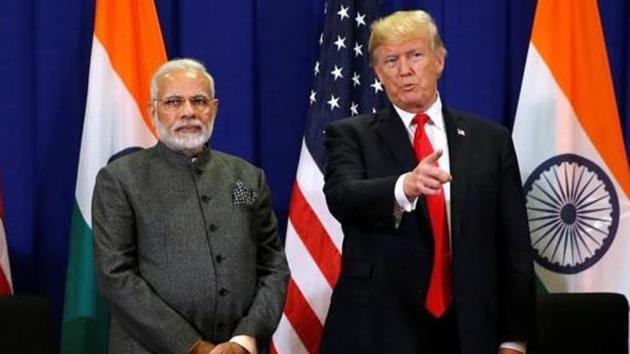 Hindustan Times, Washington |
Yashwant Raj
The United States will insist India and all other buyers of Iranian crude must cut imports to "zero" by November 4 when sanctions go into effect against Iran, a senior state department official said on Tuesday and warned there will be no waivers, unlike the previous round.
The official said the message has been delivered already to allies in Europe and Asia and an interagency team of state and treasury department officials will be visiting India, China and other countries in the coming weeks.
The official, who spoke to reporters on background, said India and China "will be subject to the same sanctions that everybody else's is… and yes, we will certainly be requesting that their oil imports go to zero, without question."
"I would be hesitant to say zero waivers ever. I think the predisposition would be no, we're not granting waivers," the officials said to a question about granting waivers.
Importers of Iranian crude face the risk of being hit by "secondary sanctions" by the United States that could take various forms, but the most significant of which would be being blocked from the American financial system, which no country, developed or underdeveloped, can afford.
India is the second largest buyer of Iranian crude after China, and Iran is the third largest supplier to India after Saudi Arabia and Iraq, and New Delhi has watched with familiar misgivings the Trump administration's decision to tear up the Iran deal past May and announcement that sanctions will be back in force in two tranches by November 4.
It was not immediately clear what kind of conversation will the US team have with Indian officials. But external affairs minister Sushma Swaraj had said that "India follows only UN sanctions, and not unilateral sanctions by any country" days after President Donald Trump pulled out of the Iran deal.
More clarity is likely in New Delhi on the extent of cuts and waivers and all other related issues after discussions with the US team that the state department official said could be visiting soon. And these issues may even figure in discussions at the inaugural 2+2 meeting of the foreign and defence ministers of the two countries on July 6 in Washington DC.
As a result of the last round of sanctions, initiated by the United Nations and reinforced by the US and European nations, Indian crude purchases from Iran had dropped from an average of 320,00 barrels a day in 2011 to 190,000 barrels a day on the day the Iran deal — Joint Comprehensive Plan of Action — went into effect in 2016 (it was signed in 2015), ending the sanctions.
But India's purchase of Iranian crude never went down to zero, neither did it for China and South Korea. The Obama administration had instituted a system of granting waivers to these buyers if they were seen to be making "significant" reduction in reviews conducted every 180 days.
The intention was to wean them off Iranian oil gradually and make it less painful as they found and switched to other suppliers. This was the expectation from the Trump administration as well but it appears intent on making a clean cut or just a strong bargaining position.