'We quit…': Imran Khan announces big move at first rally after gun attack. Watch
Published on Nov 27, 2022 07:19 AM IST
Rawalpindi March: Imran Khan also said that he would cut short his march to Islamabad because he did not want more chaos.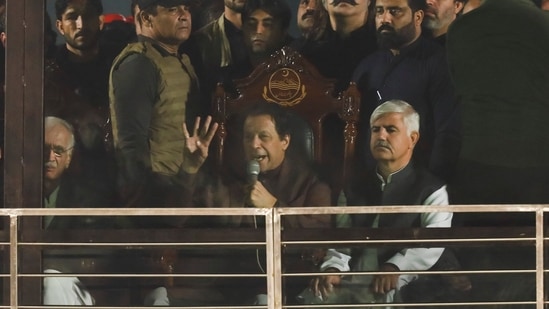 In his first protest march since the assassination attempt, which made headlines worldwide, Imran Khan's decision to withdraw his party legislators from all assemblies in Pakistan has yet again brought back his political moves in focus. The rally - led by the cricketer-turned-politician - in the city of Rawalpindi was able to draw huge crowds despite the violence and chaos that unfolded about three weeks ago. The former prime minister has also announced the decision to cut short his long march to Islamabad.
In a video posted on Twitter by his party, Pakistan Tehreek-i-Insaf (PTI), Khan can be heard saying: "We don't want to be a part of this government. I will meet all our chief ministers and our parliamentary party (leaders). And we have decided that we will be exiting all the assemblies. Instead of unleashing chaos and violence in our own country, it would be better that we exit this corrupt government."
The 70-year-old leader has been calling for fresh elections ever since his government collapsed earlier this year and he was ousted out of power after losing a confidence vote. He has also been accusing his successor - Shehbaz Sharif - and his allies of corruption.
At the rally earlier this month where an attempt was made on Imran Khan's life, one person was killed and several - including Khan himself - were injured. The former Pakistan
Prime Minister underwent a surgery following the incident.
"Fear turns an entire nation into slaves," Khan was quoted as saying at Saturday's protest amid cheers. He also admitted to have failed to bring the powerful under control to check corruption during his tenure. His speech went on for more than an hour, news agency AP reported, as he made references to the Sufi mystic Rumi, the fall of the Soviet Union, and the seventh century Shiite leader Imam Hussain.
"They (government) cannot deal with a march in Islamabad, they can call as many police as they want, but they cannot stop the hundreds of thousands from entering Islamabad. We could have created a situation like Sri Lanka. I have decided against marching on Islamabad because I don't want there to be anarchy in the country. I don't want to cause any harm to this country." Khan further said. His government was also blamed for inability to tackle the economic challenges at around the same time when Sri Lanka was going through massive internal crisis.
(With inputs from ANI)
Topics