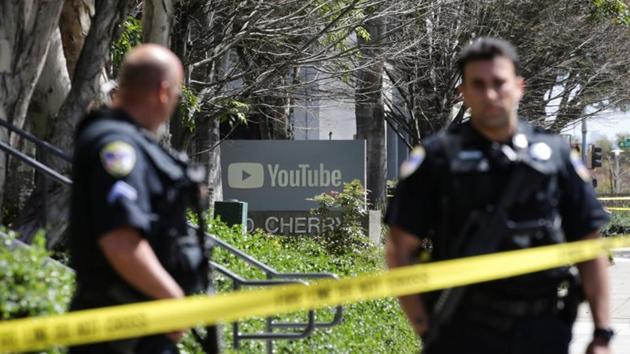 Woman opens fire at YouTube headquarters, injures three before killing herself
Police identified the suspect as 39-year-old Nasim Najafi Aghdam who allegedly 'hated' YouTube, a video-sharing service owned by Alphabet Inc's Google, which she claimed had filtered her channels to keep it from getting views.
Hindustan Times, Washington | By Yashwant Raj
, Washington
UPDATED ON APR 04, 2018 07:48 PM IST
A woman opened fire at the YouTube headquarters in San Bruno, California on Tuesday afternoon, wounding three people before she turned the gun on herself.
Authorities identified her as Nasim Aghdam, a 38-year-old resident of San Diego, but have still not said anything about her motivation. She used to post video clips on workout tips, graphic animal abuse and vegan cooking.
Her father Ismail Aghdam told Bay Area News Group in interview that his daughter had been "angry" with YouTube, which she claimed was censoring her videos and had not been paying her for content generated by her. The family had reported her missing the night before the incident and Aghdam told the police she might be headed for YouTube as she hated the company.
Read | Nasim Aghdam 'hated' YouTube, father says he warned police morning of shooting
The police found her sleeping in her car and told the family everything was "under control". Hours later she showed up at YouTube headquarters with a gun and started shooting started around lunch break.
Employees ran out for cover or took shelter where they could and several took to social media to post news of the shooting. Some called their families to let them know they were safe.
"It was very chaotic, as you can imagine," San Bruno police chief Ed Barberini told reporters at a news briefing.
Sundar Pichai, CEO of Google that owns YouTube, called the shooting a "horrific act of violence" and an "unimaginable tragedy" in a statement.
Jesse Pineda of San Bruno told the San Fransisco Chronicle he was getting a hamburger at a restaurant across the street from the YouTube offices when he heard three shots in rapid succession and he saw young woman walking out. She was shot in the left leg. He pulled her to safety in the restaurant.
He heard more shots and when he ran back towards the YouTube headquarters, he saw a woman on the ground.
"She was dead, I'm sure of it," Pineda said. "Those 10 shots were rapid fire — it was no mercy. There were four more shots after that. I wish I had had a gun but I didn't. I had to be smart and get out of there. I had to be fast."
Of the three wounded, a 27-year-old woman was said to be in fair condition, a 32-year-old woman was in serious condition and a 36-year-old man was in critical condition.
Mass shootings by a woman are rare in the US — only six of 160 such incidents between 2000 and 2013 were carried out by women, according to an FBI study published in 2014.
Close