Bangladesh: Another blogger hacked to death in Dhaka
Updated on Mar 30, 2015 06:12 PM IST
Latest attack on the country's independent writers after an American atheist blogger was killed in the same way in February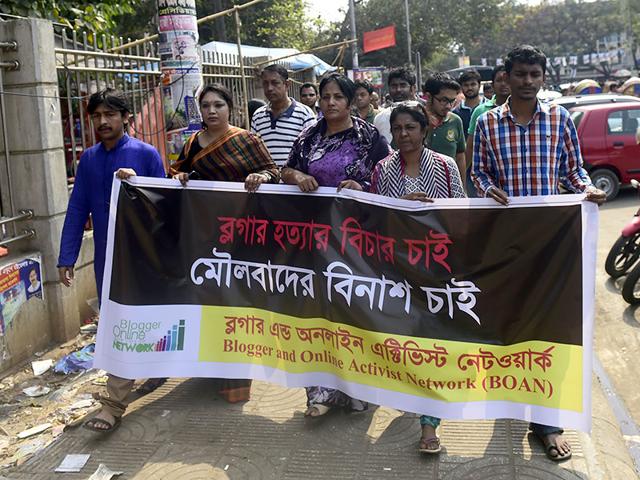 A progressive blogger opposed to religious fundamentalism was hacked to death in the Bangladesh capital on Monday, the latest attack on the country's independent writers after an American atheist blogger was killed in the same manner last month.

Washiqur Rahman, 27, was repeatedly stabbed by three men in the Tejgaon industrial area of Dhaka on Monday morning, police told the media.

Police arrested two men who were caught at the scene of the crime and recovered three meat cleavers from the spot.

The attack on Rahman came a month after Avijit Roy, a US-based Bangladeshi atheist blogger, was hacked to death at a busy roundabout in Dhaka. Roy's wife Rafida Ahmed Bonya, also a blogger, was seriously injured in the February 26 attack that triggered international outrage.

Local police chief Wahidul Islam told AFP: "He (Rahman) was brutally hacked to death this morning with big knives just 500 yards (460 metres) from his home at Dhaka's Begunbari area."

Police took the severely injured Rahman to Dhaka Medical College Hospital, where doctors declared him dead. Media reports said the assailants had repeatedly stabbed Rahman in the face.

A social media writer said Rahman was known to write "against religious fundamentalism".

"It appeared Rahman used to write using a penname Kutshit Hasher Chhana (Ugly Duckling)," said Imran Sarker, head of the Blogger and Online Activists Network in Bangladesh. "He was a progressive free thinker and was against religious fundamentalism."

Roy was the second atheist blogger to have been murdered in Muslim-majority Bangladesh in the past two years and the fourth writer to have been attacked since 2004.

Police compared Rahman's murder to the 2013 killing of blogger Rajeeb Haider.

Haider, known as Thaba Baba in the blogging community, was hacked to death on February 15, 2013 near his home at Pallabi in Dhaka.
Personalise your news feed. Follow trending topics