Nepal PM gets red carpet in China, signs deal for rail link via Tibet
Nepal and China signed 10 agreements on Monday including one on building a trans-border railway line through Tibet.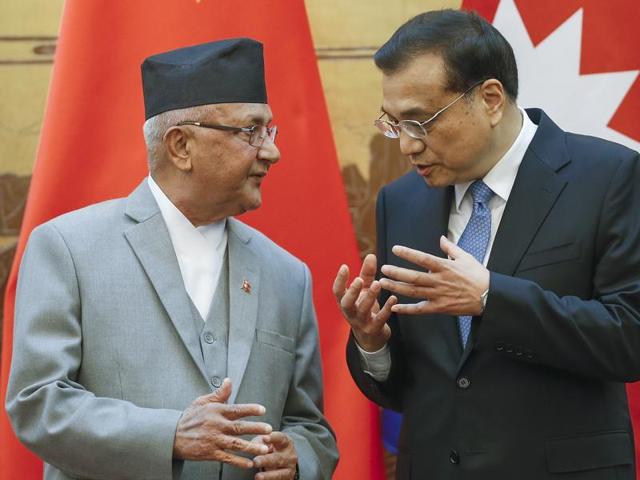 Updated on Mar 21, 2016 05:58 PM IST
Hindustan Times |
, Beijing/kathmandu
Sutirtho Patranobis and Utpal Parashar
China and Nepal signed 10 agreements on Monday, including one on building a trans-border railway line through Tibet, as the Himalayan country attempts to shrug off its dependence on New Delhi and strengthen cooperation with Beijing.
Among the agreements was a transit trade deal that is expected to further reduce landlocked Nepal's dependence on India for third-country trade.
However, both sides failed to ink a much anticipated agreement on China supplying one-third of Nepal's requirement of petroleum products.
Visiting Prime Minister KP Sharma Oli raised the possibility of two rail lines during his meeting with Premier Li Keqiang, said Hou Yanqi, deputy head of the Chinese foreign ministry's Asia division. One will connect three of Nepal's most important cities and the others will cross the border from China into Nepal.
The Nepalese government will encourage Chinese firms to look at the internal rail plan, Hou was quoted as saying by Reuters. China is already planning to extend the railway line from the Tibetan city of Shigatse to Gyirong on the border with Nepal.
Hou described the extension from Gyirong as an "even longer-term plan". She added, "It's up to geographic and technical conditions, financing ability. We believe that far in the future the two will countries be connected by rail."
The other agreements signed on Monday include a feasibility study for a bilateral free trade agreement, a concessional loan for a new international airport in the resort town of Pokhara, installation of solar grids in 32,000 houses, exploration of gas and petroleum in Nepal and construction of a bridge on the river Hilsa.
Anti-India emotion has swept Nepal in recent months after the Madhesi community blocked trade routes, triggering crippling shortages of essential goods and fuel.
This would have been on Oli's mind when he told Li during a meeting at the Great Hall of the People on Monday morning that he had come to China on a "special mission".
"To get support and goodwill from China is the main purpose of my visit between March 20 and March 27," Oli told the official Xinhua news agency.
Oli met President Xi Jinping soon after arriving in Beijing on Sunday night. He is here on a week-long visit during which he is expected to sign more deals with the Chinese government, including on transit and transport agreements.
Nepal is also eager to use China's sea ports. "Nepal is a small neighbour of China and has lagged a little bit behind in development in Asia, but I believe that Nepal can benefit from China's progress on the economic front," he said.
The blockade of the border with India by Madhesi parties opposed to Nepal's new Constitution forced Kathmandu to look for alternatives to end its complete reliance on its southern neighbour for petroleum products.
Last October, Nepal Oil Corporation signed a framework agreement with Petro China on importing one-third of the country's fuel requirements from China.
During foreign minister Kamal Thapa's visit to China in December, both sides signed an eight-point deal to procure petroleum products on a long-term basis, improve connectivity and increase bilateral trade.
NOC and Petro China had been directed to work out details on pricing, taxation, transportation and other issues before a formal deal was sealed. But the deal got stuck after Nepal sought the waiver of certain taxes.
Close Story