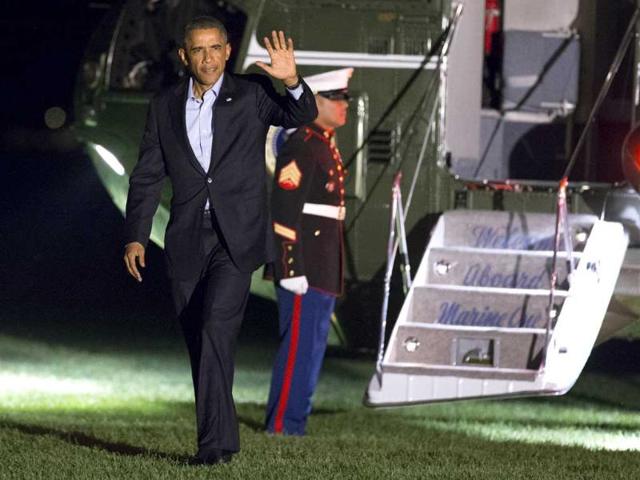 Obama to set out plan to go on offensive against Islamic State
President Barack Obama will deliver a speech to Americans and consult with lawmakers this week to sell his plan to go on the offensive against Islamic State militants, but is trying to head off public concern about another big military escapade.
UPDATED ON SEP 08, 2014 10:41 AM IST
President Barack Obama will deliver a speech to Americans and consult with lawmakers this week to sell his plan to go on the offensive against Islamic State militants, but is trying to head off public concern about another big military escapade.
Obama said that in his remarks on Wednesday he would "describe what our game plan's going to be." He will meet congressional leaders on Tuesday to seek their support for his strategy to halt the militant Islamist group.
Obama indicated he did not believe he needed additional authorization from Congress to carry out the plan, although he intends to consult with lawmakers and might seek approval for additional funds.
"I'm confident that I have the authorization that I need to protect the American people," Obama said. "But I do think it's important for Congress to understand what the plan is, to have 'buy in,' to debate it."
The president, who campaigned for the White House in 2008 on getting U.S. troops out of Iraq, has struggled to articulate how he wants to address Islamic State, telling reporters last month that "we don't have a strategy yet" to tackle the group.
"I'm preparing the country to make sure that we deal with a threat from ISIL," Obama said in an interview aired on Sunday with NBC's "Meet the Press" program, using an acronym for Islamic State. "The next phase is now to start going on some offense," he added, promising to "defeat" the group.
Obama's comments also seemed tailored to head off the fears of some Americans and anti-war members of his own party of another full-scale war. For example, he ruled out sending U.S. ground troops to fight the militants in Iraq or Syria.
"This is not the equivalent of the Iraq war," Obama added. "What this is, is similar to the kinds of counterterrorism campaigns that we've been engaging in consistently over the last five, six, seven years.
The speech underscores the degree to which Islamic State has become an urgent issue for the United States.
The Sunni militants have seized territory in northern Iraq and eastern Syria, declared a border-blurring Islamic caliphate and released grisly videos of the beheading of two US journalists it had held hostage.
Obama authorized American airstrikes in Iraq against Islamic State last month and US warplanes carried out strikes on Islamic State insurgents menacing Iraq's Haditha Dam on Sunday.
A video released last week of American freelance journalist Steven Sotloff being beheaded by the militants led to fresh calls from lawmakers in both parties for a more aggressive approach.
Republicans in Congress, which returns from its summer recess on Monday, have blocked Obama proposals on a wide range of issues, but many back stronger action against Islamic State. Obama, however, may face resistance from liberal fellow Democrats if they feel his plan requires too big a military commitment.
In the interview, conducted in Washington on Saturday, Obama said he wanted Americans to understand the nature of the threat and "have confidence that we'll be able to deal with it."
9/11 attacks anniversary
The Wednesday speech will come a day before the 13th anniversary of the Sept. 11, 2001, attacks on the United States that killed about 3,000 people.
Obama said while there was no immediate US intelligence about threats to the homeland from Islamic State, the group had attracted foreign fighters from Western nations who could travel to the United States "unimpeded" and eventually pose a threat.
Obama emphasized the United States was not going it alone. Nine other countries have agreed to be "core" members of a coalition he spent time building last week at a NATO meeting in Wales. "We are going to be a part of an international coalition, carrying out airstrikes in support of work on the ground by Iraqi troops, Kurdish troops," Obama said.
The heads of both the Senate and House of Representatives intelligence committees urged Obama on Sunday to use US special operations forces as part of his plans.
Republican Mike Rogers, who heads the House Intelligence Committee, also told the CNN program "State of the Union" that Obama needed to "lay out a very certain case" on confronting Islamic State. Rogers added: "We need to have an end-game."
Democrat Dianne Feinstein, head of the Senate Intelligence Committee, said Obama must explain what the coalition partners are actually willing to do, what role Saudi Arabia will play and whether longtime US adversary Iran is going to help.
"Iran has offered to help. I, for one, think that's useful," she said.
Obama said the United States would need Sunni Arab states in the region including Saudi Arabia, Jordan and the United Arab Emirates, as well as Turkey to "step up" and help.
Republican Peter King, a House intelligence panel member, told the ABC program "This Week" that "it's probably better" for Obama to get congressional approval for this plan, "which I would certainly vote for."
But King said he believed the president had the constitutional authority to take action in Iraq and in Syria against Islamic State without congressional approval.
Close