Solar Impulse 2 lands in Myanmar on 3rd leg of journey
Updated on Mar 19, 2015 10:12 PM IST
The Solar Impulse 2 (Si2), a solar-powered aircraft on a mission to fly around the globe without a drop of fossil fuel, has landed here on Thursday, completing the fourth leg of its historic flight, according to media reports.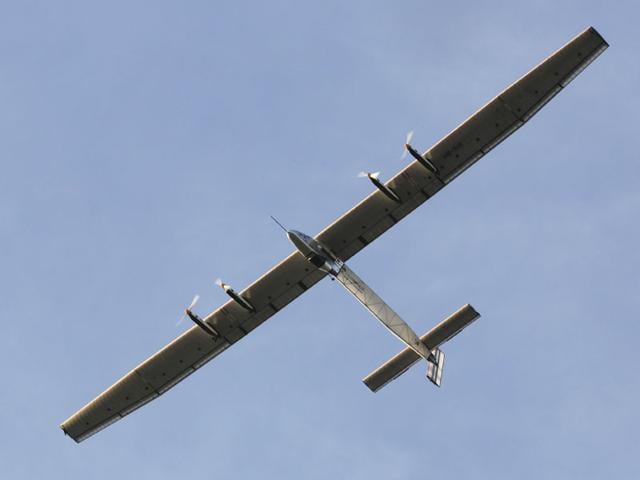 A solar-powered plane landed in Myanmar on Thursday night, the third leg of a round-the-world trip aimed at highlighting clean energy.
Dozens of trees had to be cleared ahead of the Solar Impulse 2's arrival at the Mandalay International Airport for its giant mobile hangar and exhibition tent, said Taik Aung, the country's director of air navigation and safety division. Towering shrubs along the runway also needed to be trimmed to accommodate the plane's 72-meter wing span, said Corinne Henchoz Pignani, of the Swiss Embassy in Yangon.
The Impulse 2, the first aircraft powered by solar energy, has 12 scheduled halts during its five-month journey.
Swiss pilots Bertrand Piccard and Andre Borschberg are taking turns flying the aircraft, which is powered by more than 17,000 solar cells on its wings that recharge the plane's batteries.
The single-seat, Swiss-made plane left Varanasi early today after several weather delays and flew over the Bay of Bengal and reached Mandalay at 7:50 pm (local time).
As the plane touches down in Mandalay, Myanmar's second-largest city, a band of hundreds of students played music and dancers performed a regional dance wearing elephant costumes decorated with gold and glass gems.
The flight has attracted attention from people who see solar power as a future source of clean, renewable energy.
Two other aircraft, an ATR 72 and Ilyushin 76, were carrying equipment for the solar plane and a 70 support staff, said Soe Paing, a member of the plane's local task force team.
Myanmar's government was picking up the tab for the 20,000 gallons of fuel needed for the support planes on the Mandalay leg, he said.
The Solar Impulse 2 is scheduled to continue onward to Chongqing and Nanjing in China on Sunday. It then heads over the Pacific Ocean, landing in Hawaii and the US mainland before flying over the Atlantic Ocean.
Some legs of the trip, such as over the Pacific and Atlantic oceans, means five days and five nights of flying solo. But the pilots have prepared for the exhaustive long stretches: Borschberg has been practicing yoga, while Piccard uses self-hypnosis to calm himself.
Personalise your news feed. Follow trending topics