True champ: Surfer vows return to waves after shark escape
Updated on Jul 21, 2015 08:54 PM IST
The 34-year-old three-time world champion fought off a large shark during the final heat of a world tour event at Jeffreys Bay in South Africa on Sunday, with the dramatic scenes beamed live around the world.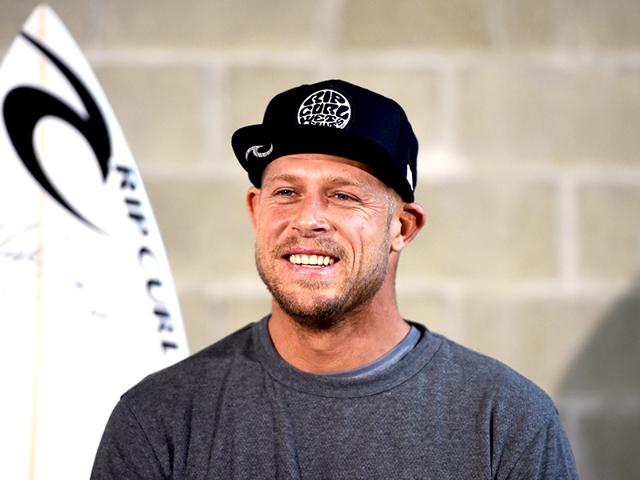 Australian surf champion Mick Fanning has vowed to return to the waves after a "miracle" escape from a shark attack, as he paid tribute to courageous mate Julian Wilson for rushing to help.
The 34-year-old three-time world champion fought off a large shark during the final heat of a world tour event at Jeffreys Bay in South Africa on Sunday, with the dramatic scenes beamed live around the world.

He survived unscathed, with rival and close friend Wilson, also from Australia, furiously paddling towards him to
help despite the danger posed by the shark, which experts suggested was either a bull or a great white.

"I guess someone was looking out for me. To walk away from a shark attack with not a scratch on you, it's a miracle
really," Fanning said on Tuesday after arriving back in Sydney with Wilson, where they were met by a large media team.

"You just count your lucky stars and if there is someone up there looking after us--thanks."
Watch: Surfer Mick Fanning escapes shark attack at competition
Speculation has been rife that Fanning may call it quits after indicating, in the moments after his terrifying ordeal,
that he might not compete again.

Fanning admitted today he was now dealing with "an emotional mental sort of trauma" that would probably take
weeks, if not months, to get over.

But he vowed to get back on his board again. "Surfing has given myself and my family so much. It's
gotten me through the hardest times in my life," he said.

"So to turn my back on surfing, it just wouldn't feel right."

He is even prepared to get back in the waves at Jeffreys Bay. "For sure," he said, when asked if he would compete
there again next year.

Social media went into a frenzy over the dramatic close call, with a YouTube clip of the attack being viewed almost
13.5 million views.

Even Hollywood star Russell Crowe commented on Twitter. "My heart was racing just watching," Crowe posted.
Read
Shocked mother watches surfer son Mick Fanning fight huge shark

Close Story
China reaffirms threat of military force to annex Taiwan

Taiwan holds live-fire military drill to 'prep for invasion' by China In an additional response, China said it was cutting off dialogue on issues from maritime security to climate change with the U.S., Taiwan's chief military and political backer. Taiwan's foreign minister warned Tuesday that the Chinese military drills reflect ambitions to control large swaths of the western Pacific, while Taipei conducted its own exercises to underscore its readiness to defend itself.

BRI loses steam, no fresh Chinese investment post-Covid pandemic

Nine years after it was launched by President Xi Jinping, the Belt Road Initiative appears to have lost steam with virtually no new Chinese investment in third countries post-Covid pandemic. Bangladesh Finance Minster AHM Mustafa Kamal has publicly blamed economically unviable Chinese BRI projects for exacerbating economic crisis in Sri Lanka.

Did Trump break the law? FBI search raises fresh questions

The year was 2016, the presidential candidate under investigation was Hillary Clinton and the FBI director at the time, James Comey, laid out the factors the Justice Department weighs in deciding whether to charge someone with mishandling classified records. Whether an FBI search of another candidate from that election, Donald Trump Mar-a-Lago residence is a prelude to criminal charges is unknown. Multiple federal laws require the safekeeping of government secrets.

Joe Biden formalises US support for Finland, Sweden joining Nato

The countries sought out Nato membership earlier this year to guarantee their security in the wake of Russian President Vladimir Putin's offensive in Ukraine. The North Atlantic Treaty Organization's rules require the consent of all of its 30 existing members before Finland and Sweden can officially accede into the alliance, which is expected in the coming months.

Suspect in killing of four Muslim men arrested in New Mexico

Muhammad Syed, 51, an Albuquerque resident, was formally charged with two of the homicides: those of Aftab Hussein, 41, and Muhammed Afzaal Hussain, 27, killed on July 26 and August 1, respectively, but he is considered a suspect in all four murders, city Police Chief Harold Medina said at a news conference.
Personalise your news feed. Follow trending topics