Turkey adamant on its Syria policy despite suicide attacks
Updated on Jul 22, 2015 03:20 PM IST
A suspected Islamic State suicide bombing that killed 32 people in a Turkish border town is unlikely to push Ankara to strike against the group in Syria, where it still sees Kurdish separatism and President Bashar al-Assad as the major threats.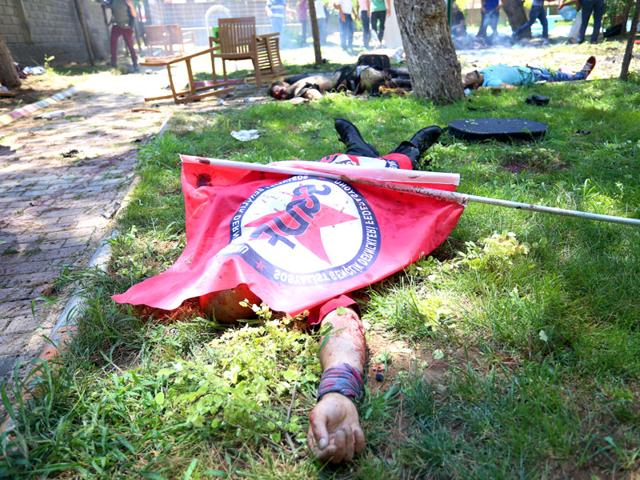 A suspected Islamic State suicide bombing that killed 32 people in a Turkish border town is unlikely to push Ankara to strike against the group in Syria, where it still sees Kurdish separatism and President Bashar al-Assad as the major threats.
Turkey has been a reluctant partner in a US-led coalition fighting Islamic State, refusing a frontline role in military action and arguing only Assad's ouster - not just air strikes on the radical Islamists - can bring peace.
It is believed to favour some less radical Islamists who vie with Islamic State. Ankara fears advances by Kurdish militia fighters, who now control the majority of the Syrian side of the border, will fuel separatist sentiment among its own Kurdish minority, potentially reigniting a festering three-decade insurgency.
US air support for the Kurds is viewed with deep suspicion. "It's not appropriate to expect changes to Turkey's Syria policy," one senior official told Reuters after Monday's bombing in the border town of Suruc, the worst attack of its kind in Turkey since Islamic State seized parts of Syria and Iraq.
Ankara sees Islamic State virtually as a child of Assad, whom Turkish leader Tayyip Erdogan considered an ally until their acrimonious falling-out over the unfolding insurrection.
"Turkey has always said Assad should go," the official said. "We have proof Assad supports Islamic State...We cannot change our stance against this coordinating structure."
Turkey's stance has frustrated some of its NATO allies, including the United States, whose priority is fighting Islamic State rather than Assad, and who have urged Turkey to do more to prevent its 900-km (560-mile) Syrian border being used as a conduit by foreign jihadists.
The US Air Force has not been allowed to fly any bombing sorties against Islamic State from its Incirlik base in southern Turkey; but it does use the airfield to launch drones.
Ankara has sent additional troops and equipment to the border in recent weeks as fighting between the Kurds and the radical insurgents intensified.
Intervention, however, would be considered only if national security were threatened. Judging by the response from officials in Ankara, Monday's Suruc bombing, which tore through a group of Turkish and Kurdish students planning an aid trip to the Syrian Kurdish town of Kobani, did not amount to such a threat.
In any case, Erdogan's generals would seem reluctant to obey the call, if it came. Senior government officials have said privately that the Turkish army, the second biggest force in NATO, is strongly opposed to any unilateral intervention in Syria, whether limited incursions or the creation of a 'buffer zone'.
"Turkey has taken the necessary precautions ... There is a serious military presence on the border, but it is impossible to control every inch. At most we could send more soldiers and tanks," the senior government official said.
Some parts of the Turkish media have questioned whether Suruc marked an attack against Turkish interests - raising the threat of more strikes across the country - or simply a spill over from the conflict between Kurds and Islamic State in Syria.
Turkey has nonetheless intensified its efforts to break up Islamic State networks on its own territory. Officials say some 500 people have been detained since the start of the year on suspicion of links with Islamic State, while 29 people believed to have helped smuggle Europeans to Syria and Iraq have been detained in Istanbul this month alone.
Fears of "demographic change"
Kobani, where the students attacked on Monday had hoped to build a library and plant trees, has come under repeated Islamic State assault and has been a rallying point for Turkey's Kurds, many of whom suspect Ankara of covertly backing the Islamist insurgents against their brethren in Syria.
Turkey sees the Kurdish YPG militia in Syria as closely linked to the Kurdistan Workers Party (PKK), a militant group whose fight with the Turkish state has killed 40,000 people since 1984.
Fears linger that the armed rebellion could be reignited, threatening again the fabric of the Turkish state. Ankara has expressed concern to the United States about advances made by the YPG, which, backed by US air strikes, has taken territory from Islamic State along the Syrian side of the Turkish border in recent months.
"We were not safe when there was Islamic State (on the border), and we are not safe when there is PYD," a second senior official said, speaking before Monday's bombing in Suruc. "Islamic State is a terrorist organisation, there is no doubt about that. We will be pleased if they're away from our border. But if the group replacing them pushes only for its own agenda we will not be pleased by this either."
President Erdogan accused the West last month of bombing Arabs and Turkmen in Syria while supporting Kurdish "terrorists".
Senior officials in the ruling AK Party have warned against what they see as Kurdish efforts towards "demographic change" in the region - a move towards creation of a Kurdish state embracing territories in Iraq, Syria and Turkey.
Monday's bombing sparked anti-government protests in Istanbul and other cities, with some in the crowds chanting "Murderer Islamic State, collaborator Erdogan and AKP".
Prime Minister Ahmet Davutoglu strenuously denied that Turkey had ever tacitly supported Islamic State. But he gave no hints of a change in policy in Syria, where Turkey has long supported less hardline Islamist rebels against Assad's forces.
"The AKP has zero intention of changing its policy towards Syria or its foreign policy in general," said Aaron Stein, an Atlantic Council fellow who specialises in Turkey and Syria. "What Turkey is trying to do in Syria is unite the Islamist insurgency ... to attack the regime and create a very strong counterweight to ISIS (Islamic State)," he said.
"They are not friends of ISIS but they are friendly with Islamists." In a conflict where front lines change rapidly and the nature of groups, not least Islamist groups, can mutate with circumstances and leaders' ambitions, this could prove a hard and hazardous path for Ankara to follow.
Close Story
Mexican President proposes peace commission led by 3 leaders including PM Modi

Mexican President Andres Manuel Lopez Obrador is planning to submit a written proposal to the UN to create a commission, made up of three world leaders, including Prime Minister Narendra Modi, to promote a world truce for a period of five years, MSN web portal reported. The Mexican President proposed that the top commission should include Pope Francis, the UN Secretary-General, Antonio Guterres, and Indian PM Narendra Modi.

In major policy shift, China says it will take Taiwan by force if necessary

China on Wednesday, in only its third white paper on Taiwan since 1993 and the first after President Xi Jinping came to power in 2012, said it will not "renounce" the use of military force to bring the self-governed island under its control as its armed forces concluded the largest ever exercises around the island but announced that it will conduct regular patrols in the region.

New zoonotic virus found in China, 35 known cases of infection: Study

A new animal origin virus, which could infect humans, has been discovered in two provinces in China, scientists from China and Singapore have said in a new study. At least 35 such cases have been recorded in eastern China's Shandong province and central China's Henan province, said the study published in the New England Journal of Medicine on August 4.

On the Taiwan question: China refuses rule out use of force in reunification bid

China on Wednesday, in its first white paper on Taiwan since President Xi Jinping came to power, said it will not "renounce" the use of military force to bring the self-governed island under its control, reiterating the threat to use force as its armed forces continued to hold the largest ever exercises around the island. Beijing hasn't announced when the current series of drills will end.

One year into Taliban rule- misery and disease conquer Afghanistan

A year on, why Afghanistan remains a critical global issue Over the past year, would-be donors have grappled with the conundrum of funnelling fresh funding to the ailing nation, which the Taliban rebranded the "Islamic Emirate" in line with their austere theocratic beliefs. "How do you provide assistance in a country where you don't recognise the government?" asked Roxanna Shapour of the Afghanistan Analysts Network.
Personalise your news feed. Follow trending topics