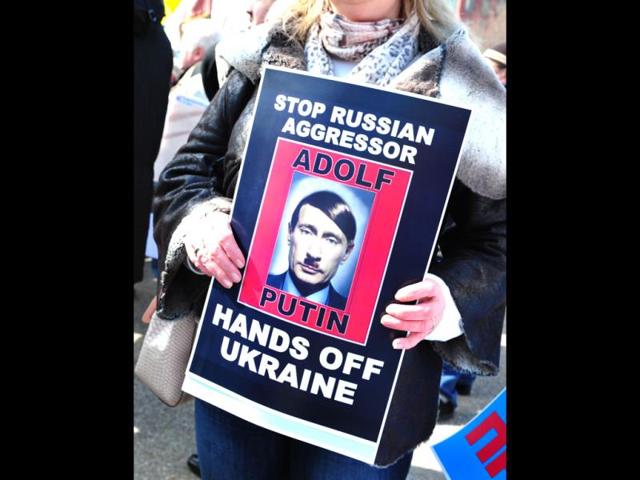 Ukraine crisis leaves all players worse off
While Europe has problems of its own, the crisis also hurts Russia's broader goal of a Eurasian Union. If Putin gets Crimea, does he lose Ukraine forever?
Hindustan Times | By Pramit Pal Chaudhuri
, New Delhi
UPDATED ON MAR 09, 2014 12:39 AM IST
There is palpable relief in Central Europe at the expected arrival of additional US fighters, troops and a single warship in the Black Sea. Polish officials privately say the largely symbolic deployments at least quash panicky public talk of Russia expanding its military takeover of the Crimean peninsula to include bits of its other neighbours.
Moscow's seizure of Crimea, part of Ukraine even if largely Russian populated, has confirmed the deep suspicions still held by most Poles that their giant eastern neighbour remains dangerous and aggressive.
No one has come out well over the latest Crimean war.
Russian President Vladimir Putin may have secured a strategically important bit of territory, but his broader foreign policy goal of a "Eurasian Union" economically binding a number of ex-Soviet republics to Russia, of which Ukraine was the largest.
Said a retired US ambassador, "Putin may get Crimea, but he loses Ukraine forever."
The US, on the other hand, has confirmed a general sense of a Barack Obama administration that is reluctant and reactive to global events.
The European Union capitals like London and Berlin the official reaction was, as one British diplomat noted, "We can't afford to bailout Ukraine. Europe has enough problems of its own." Britain worried about the impact of losing Russian clients to its financial centre. Germany worried about forking over billions to Kiev.
Complains Vera Nanivska of the International Institute of Political Studies in the Ukraine, "The West's reactions were strong, but their impact was lost because they were not rapid and concentrated. Too much time was lost on talking and so the Russians do not feel threatened."
Poland is the largest NATO and EU state bordering Ukraine. It has also played the most active role in attempting to wean Ukraine off its dependency on Russia. Warsaw actively supported the original "Orange revolution" in 2004 that introduced democracy to the Ukraine and backed the Euromaidan protests that led to the fall of President Viktor Yanukovich.
Warsaw has sought to persuade the Kiev leadership over the past few years that it should adopt the market-based economic reforms that have made Poland a continental success story.
"We have tried to show them the path that we took," said a senior Polish diplomat. Since that path has taken Poland into the heart of the West it goes down poorly in Moscow.
Poles expect some economic fallout for their role in the Crimean crisis and Warsaw's strident rhetoric against Moscow. "We still have $ 7 billion worth of trade with Russia and will lose some of that," says Patrick Kugiel of the Polish Institute of International Affairs.
One possible compensation is that the next EU foreign minister could be Polish Foreign Minister and a former columnist with The Statesman of Calcutta, Radek Sikorsky. His main rival for the post, Carl Bildt of Sweden, shares Sikorsky's antagonism to Russia.
"Choosing either one would be a way to send a signal to Putin," said a British diplomat.
Close