One thing's certain about actress Kangana Ranaut: She calls it like she sees it. Another thing: We all love her for it!
In honour of her 29th birthday on Wednesday, we let Bollywood's 'It' girl (and everyone's dream bestie) tell us what love life is all about.
Read: Kangana Ranaut, you are hero and don't let Hrithik Roshan change it
See Kangana narrate our romantic trials and tribulations in these hilarious, animated gifs!
When you follow your heart instead of your head, sometimes this happens: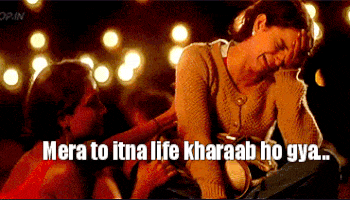 Who just grabbed my behind at the bar?!
When your ex calls at 2am, and you're just like ...
Uh oh, got spinach in your teeth on a date? Let Kangana demonstrate :
Want that cute guy across the room to finally come and talk to you? Do this!
Don't flash him one of these though, or he may freak out.
When he finally musters up the courage to get your number:
When you're iffy at the end of your first date:
But then he sweeps you off your feet ... literally:
And then you're all like:
And sometimes that even leads to this!
Follow @htlifeandstyle for more.