Bhutan's new generation of politicians can help strengthen Indo-Bhutan ties
Updated on Oct 29, 2018 07:31 PM IST
The centrality of India in Bhutan's foreign policy has been historically well established. In its party's objectives, DNT makes an emphatic mention to "maintain close and harmonious relations with all our neighbours, especially safeguarding and nurturing Indo-Bhutan friendship, in keeping with Bhutan's historical tradition."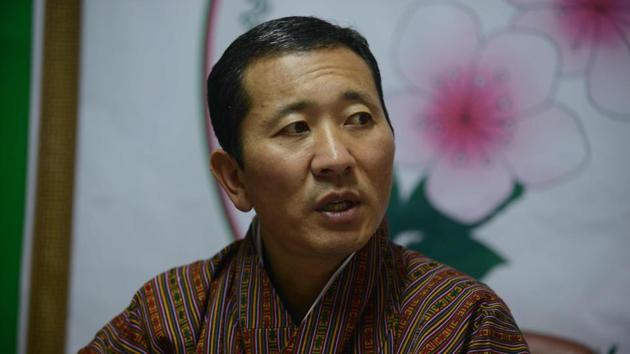 The third national assembly election in Bhutan since it adopted a democratic constitution in 2008 has once again brought a new party to the Himalayan kingdom. The Druk Nyamrup Tshogpa (DNT), led by a medical surgeon Lotay Tshering, won 30 out of the total 47 National Assembly seats. The Druk Phuensum Tshogpa (DPT), which had won 45 out of 47 seats in the first national assembly election in 2008, was wiped out in the 2013 election. It is not the only opposition party. As per the Bhutanese constitution, only two parties that won the primary election can contest the final election. In the process, the incumbent party People's Democratic Party stood a poor third in the September 2018 primary election and withdrew from the election process.
Bhutanese elections are fought on largely development issues. Despite the Doklam imbroglio involving India and China in 2017, all political parties are silent on issues of foreign policy and national security. This DNT made simple yet touching election promises some of which were addressed to yak herders in mountainous Haa and inspired young entrepreneurs in a plains land border town of Phuntsholing.
Though Bhutan has come a long way from a nation strongly based on a politico-religious ethos TSA-WA-SUM (the country, the people and the King), the monarchy continues to remain the most decisive and core actor in both domestic and foreign affairs. In the 1990s, the country was embroiled in a global embarrassment trigged by refugee exodus from the southern Bhutan. For almost two decades they lived in several refugees camps in eastern Nepal. Most of the refugees have now been provided third country settlement including in the US, Europe and Canada. However, the inclusion of and victory of Nepali-speaking Bhutanese from the southern Bhutanese districts like Tsirang, Samtse, Sarpang and Phuentosoling town indicates the remarkable reconciliation process brought about by both the monarchy and democratic process.
The centrality of India in Bhutan's foreign policy is well established. In its party's objectives, DNT makes an emphatic mention about the need to "maintain close and harmonious relations with all our neighbours, especially safeguarding and nurturing Indo-Bhutan friendship, in keeping with Bhutan's historical tradition." In the wake of the Doklam imbroglio and steady emergence of a new generation of Bhutanese bureaucrats, politicians and youth exposed to the internet culture, Bhutan-India relations have to be renegotiated in many areas. Against the backdrop of 699 kilometres of open border, India has to consciously think in much wider terms.
India has effectively used economic assistance as a major instrument of its foreign policy in Bhutan. Up to 1989-90, India dispersed about ₹2,000 crore as its total foreign economic assistance. In the following decade, India dispersed another ₹3,300 crore as foreign economic assistance to developing countries where again Bhutan was the overwhelming recipient. India contributed almost 100% of Bhutan's First Plan (1961-66) outlay of ₹107.2 million and 98% of its Second Plan (1966-71) of ₹202.2 million. However, over the years, the contribution gradually went down . In the Eleventh Plan (2013-18) it hit a low of 23% in the total plan outlay of ₹213 billion. Will India be able to reorient and integrate its economic assistance with newer issues like democracy, good governance, reforms, youth employment, trade-investment and non-traditional security threats including terrorism, trafficking of small arms, narcotics and even human beings? This is where India could enter into new partnership with the DNT Government.
India-Bhutan cooperation in developing hydel power projects is a successful model. Installed hydropower capacity of 1,615 MW in Bhutan constitutes less than six per cent of total potential of 30,000 MW. Considered as the backbone and instrument to achieve self sufficiency, most of these projects have been built with Indian support initially on an economic assistance basis which now has much higher loan content. However, Bhutan is wary about huge debt mostly incurred in the hydro projects and wants to move away from 'goodwill tariff' offered by India to 'commercial tariff' triggered by market forces in projects like 720 MW Mangdechu to be commissioned in next few months.
Bhutan is keen to come out of the India-centric one country buyer model and diversify its export market partners in South and South East Asia. This inevitable role of India as a transit country, very much fits in the sub-regionalism dynamics. In fact, making Bangladesh, Bhutan and Nepal partners in India's Act East Policy could actually make this sub-region a powerful South Asian growth quadrangle.
Mahendra P Lama teaches in JNU and is a former member of the National Security Advisory Board, Government of India
The views expressed are personal
Personalise your news feed. Follow trending topics