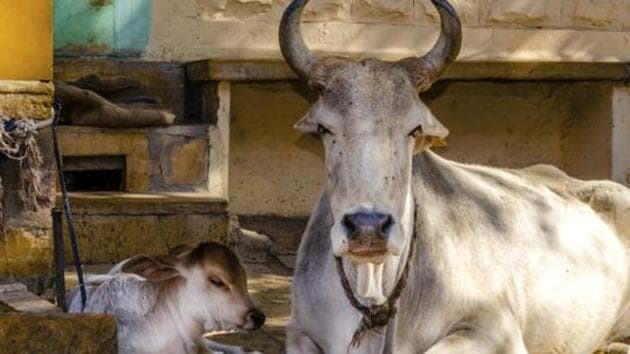 Cattle slaughter ban: BJP risks losing allies, party leaders in Northeast over cow rule
In many poll-bound states such as Meghalaya, Mizoram and Nagaland, the BJP's cow protection agenda is alienating allies and making party leaders uncomfortable
UPDATED ON MAY 31, 2017 03:48 PM IST
The Centre's new regulations on cattle are meeting resistance in four North-eastern states that hold assembly elections next year.
Last week, the BJP government banned the sale of cattle for slaughter in any "animal market", a term the law defines broadly. It also requires those selling or buying cattle for other purposes to go through an onerous certification process.
According to data released by National Sample Survey Organisation (NSSO) in 2014, all eight North-eastern states except Tripura were among the top 10 most frequent consumers of beef or buffalo in the country. Meghalayans topped the list, with nearly 81% of them consuming beef or buffalo. The figure for Nagaland was 57%; Mizoram was 23%.
Meghalaya, Nagaland and Mizoram all go to the polls in 2018 and have a majority Christian population.
On Tuesday, the president of the National People's Party (NPP) and the MP from Meghalaya, Conrad Sangma, wrote to Prime Minister Narendra Modi arguing against the new regulations.
"The Rules, among other provisions, impose a number of restrictions on cattle trade which would have serious impact on the socio-cultural and economic milieu of millions of people," he wrote.
The NPP is a partner in the BJP's ruling dispensations in Meghalaya and at the Centre. It is also a member of the North East Democratic Alliance, the BJP-led coalition in the North-east.
Sangma's party has a significant presence in the district council of Meghalaya's Garo Hills, where cattle traders oppose the restrictions.
Earlier this year the United Democratic Party (UDP), which represents 8 of the 60 seats in the Meghalaya assembly, floated the possibility of allying with the BJP after the assembly elections. Now it is having second thoughts.
The party's working president, Titosstarwell Chyne, said in an interview that the Centre's move was "highly unacceptable" and that the BJP should emphasize putting food on everyone's plates.
"If this issue isn't resolved, we will go alone in the coming polls," said Chyne. "We can't compromise with the food habits of the people. It would affect our vote share if we do."
A Congress MP in Meghalaya also urged the Centre to withdraw the recent notification.
The Naga People's Front, which leads the government in Nagaland in an alliance with the BJP, expressed reservations as well.
"There is no question of implementing the Centre's latest move," said Kiyanilie Peseyie, the social security and welfare minister in the Nagaland government. "It will be very difficult."
Last week, C. Ngunlianchunga, animal husbandry minister in the Congress government in Mizoram, told HT that the state won't implement the Centre's notification.
In Tripura, the fourth state from the region that votes next year, only 4% of the population consumes beef or buffalo meat, according to the NSSO figures. Members of the ruling Left Front government have said they will not put the new cattle rules into effect either.
Close