Delhi can't carry on without acknowledging its greens
Jun 27, 2018 08:55 AM IST
The Delhi government must set up a body mandated with the welfare of all greens. Also, we need to reduce private vehicles and traffic density to thwart infrastructure needs that require routine tree-cutting while increasing pollution
Delhi is going into decline. It's unsafe to breathe its air, to drink its water and be on its roads. The latest news about the plans to cut 16,500 trees reveals what's rotten. The city has continuously treated its greens as dispensable in their current form and amenable to re-engineering in the future. You can see the scars from each decade.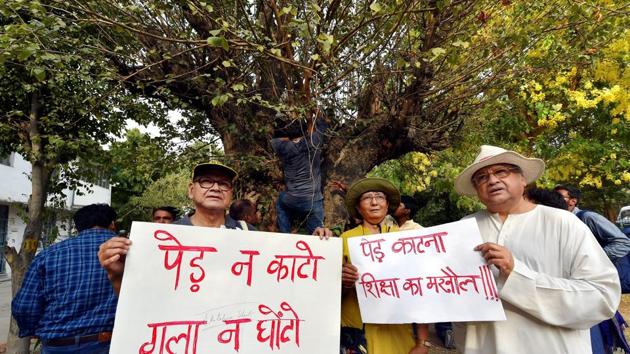 In the late 1980s, ignoring public protests, a thriving ecosystem in Luytens's Delhi's Chanakya Puri Kushak Nala, was cut down to make homes for Delhi Government officers. In 1994, the Bhalaswa landfill in north Delhi was cited on an aquifer, next to what was popularly called the Horse Shoe lake, a wetland, dead now. In 1999, Ansal Plaza was inaugurated where the Delhi Masterplan had indicated an open, green space. In 2007, the Supreme Court of India allowed a mall-sprawl on the southern section of the Delhi Ridge, arguably one of the key green walls of Delhi — a topographic element that shielded the city from dust and ensured a water reservoir for large populations — apart from being part of an ancient forest. More recently, the Art of Living Foundation was allowed to hold a festival on the fragile banks of the Yamuna, causing brutal environmental damage. Hundreds of trees have already been cut for the metro and road widening. It's a pattern, repeated despite protest and resistance. It's the urban planning equivalent of domestic violence.
The 16,500 trees to be cut for a project compacting government accommodation and freeing land for commercial use aren't the only trees in danger. About 2,000 trees will go to widen the Dhaula Kuan road to the airport. Several trees are routinely allowed to be cut. Some residents simply find them an obstruction and don't want them, an active, tree-loving councillor from South Delhi told me. Even parks don't plant shrubs, trees and hedges any more.
The fact of being able to live in this giant city is made possible by the many natural elements that provide us succour. These have been considerably damaged, but Delhi (like other cities) needs to look ahead.
A fundamental tenet must be the inviolate nature of the greens. They must be seen as Delhi's natural heritage, as worthy of being protected as our built heritage — it's impossible to regrow them through afforestation to their original ecosystem value. They shouldn't be understood as bumps preventing the freeing of prime real estate. Can architects be mandated to design around the trees that exist, the onus on the builders to find a model that works? Should the municipalities not be retrained to develop parks that fight climate change and pollution? Even if trees have to be cut, how to minimise this?
A shift of this kind requires an overhaul of how these resources are governed. The Delhi government must set up a body mandated with the welfare of all greens, no matter who is to look after them. This body should receive all plans for modifying greens, permissions for activities on them and be able to stop them unilaterally. Its ambit should include reviving and protecting water bodies, minimising old trees from falling during storms and monsoons. We also need a new set of guidelines on parks and wetlands and move this city from planting ornamental Ficus plants to indigenous scrub forest varieties that will be resilient to the harsh reality of climate change. It must also store and use data, ranging from citizens' science (such as tree census) to historical records.
To serve its purpose, it should comprise both government foresters and informed members of the public, and stay transparent — proposals and minutes must be available for public comments. The body must be empowered, not advisory. Even the tree authority, should it permit tree felling, be obliged to send the case here before finalisation. Too centralised? Maybe, but more transparent and accountable.
A second element is transportation. We need to reduce private vehicles and traffic density, to thwart specific infrastructure needs that require routine tree cutting while increasing pollution.
Finally, Delhi's Masterplan is also coming up for remaking. It's a huge opportunity to rewrite the city's future as a much more livable city, in the context of its carrying capacity. It must demarcate many more inviolate spaces, and disallow activities the city can't nurture anymore.
Delhi can't carry on without acknowledging its greens. There is no other future available.
Bharati Chaturvedi is the founder and director of the Chintan Environmental Research and Action Group
The views expressed are personal