Ending TB in India by 2025 is ambitious, not impossible
Updated on Mar 21, 2018 09:10 AM IST
As part of the new national strategic plan, every TB patient will have access to free diagnosis and treatment irrespective of whether they seek care in the public or private sector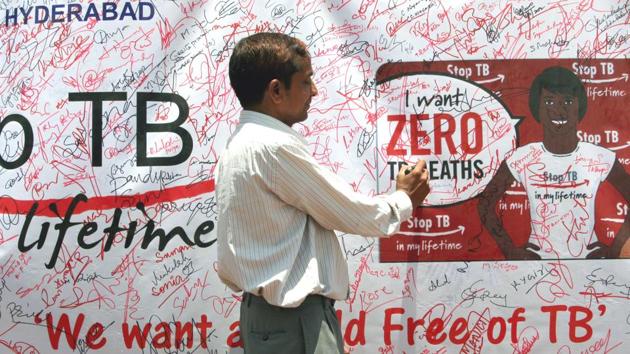 The Delhi End tuberculosis (End-TB) summit held recently was a watershed moment in the history of the disease. Prime Minister Narendra Modi affirmed a national commitment to rid India of tuberculosis by 2025. The prime minister's direct attention to TB serves to underscore India's determination to eradicate it. India has been successful in overcoming a number of major national health-delivery challenges. For End-TB's success, a new focus and an intensity is needed as well as a partnership between the health system, scientists and the community.
The TB crisis is symptomatic of the general challenges in our health system. Prevention, successful diagnosis, and treatment of diseases are dependent upon an efficient and comprehensive system that ensures environmental improvement and that no person is missed when attention and care are needed. An important benefit in focusing on TB will be that our healthcare delivery system must improve. For End-TB, our system will have to provide universal access to quality care, efficient surveillance, tracking of patients, and support mechanisms to ensure nutritional and financial sustenance for patients and their families. For its success, the End-TB campaign needs to have strong linkages with the Swasthya Bharat and Swachh Bharat missions.
As part of the new, ambitious National Strategic Plan, sustained commitment is stated and outcome indicators have been well-developed. Under the plan, every TB patient will have access to free diagnosis and treatment irrespective of whether they seek care in the public or private sector. Private providers will be given milestone-based incentives to ensure the appropriate treatment of patients. In order to meet a patient's nutritional needs, the government will provide every patient ₹500 per month for the duration of their treatment. These initiatives will be bolstered by vigorous active case-finding efforts that target vulnerable populations, universal drug susceptibility testing through the establishment of DNA-based machines in every district, and periodic monitoring of the programme's performance indicators at the state level. Ambitiously, the plan also proposes preventing resurfacing of active TB among those latently infected.
Yet, accomplishing the 2025 target needs the full support of a robust public health system. For this, we need to address existing gaps. Procurement and supply chain management must be streamlined to ensure that patients have regular access to essential drugs and diagnostics. States like Tamil Nadu, Madhya Pradesh, Kerala and West Bengal have made much progress in establishing and running cost-effective and transparent procurement systems. These models can be examined and appropriately replicated across the country to optimise drug purchase and distribution.
Human resource challenges in healthcare have an effect on our ability to achieve health targets. Innovative strategies to address the shortage of healthcare workers such as performance based incentives, public-private partnerships and training programmes to improve the management skills of programme staff will enhance the quality of services given to TB patients.
Social acceptance of the need for screening and care-delivery is a must. Here, not only must all the tools of communication be well used, but survivors may consider coming out and being part of the campaign. I nearly died of TB in 1977 and was saved by the care of family and friends, the availability of drugs, and my adhering to the full schedule of use.
Community acceptance needs to be linked with strong delivery systems for screening, laboratory testing for resistance and clinical care, including referral for management of patients with co-morbidities. We need incentives for high performance and mechanisms for system-strengthening in case of underperformance. Scientists in the IT sector have their task cut out here. Frequent review and course correction will be needed. Dozens of parameters impact disease-prevalence and, therefore, a dynamic review mechanism is essential.
Each target population will need distinct approaches. Stratification by target group needs be done and disease-severity assessed to identify whether generic or tailored approaches are needed.
More science is needed to develop better tools in the battle against TB. Across India — from JNU and the International Centre For Genetic Engineering And Biotechnology (ICGEB) in Delhi to the TB institute in Chennai — there are top quality researchers and clinicians doing an incredible job. New TB vaccines, faster and cheaper point-of-care diagnostics, and shorter treatment regimens is the goal of this research.
TrueNat MTB, the indigenously developed molecular diagnostic test whose early-stage development was supported by government agencies, is an excellent example of Indian ingenuity. Once rolled out in primary health centres, it will take speedy TB diagnosis to our citizens.
K. VijayRaghavan is distinguished professor National Centre for Biological Sciences, TIFR and former Secretary, Department of Biotechnology; Government of India
The views expressed are personal
Personalise your news feed. Follow trending topics