How the blasphemy law could transform Punjab into a theocratic state
Sep 21, 2018 05:54 PM IST
The Punjab government's proposed Section 295AA is not only about violating individuals' rights to freedom of speech and expression, but about the broader question about "the kind of democracy that we have proclaimed ourselves to be."
In 1926, a new religious faith was born in Punjab. Known as the "ad-dharm movement", this faith drew inspiration from the Bhakti movement, venerated the poet, Ravidas, had its own sacred book, and aimed to provide Dalits with a separate religious identity, which would aid them in their quest for emancipation. It preached caste equality and liberation.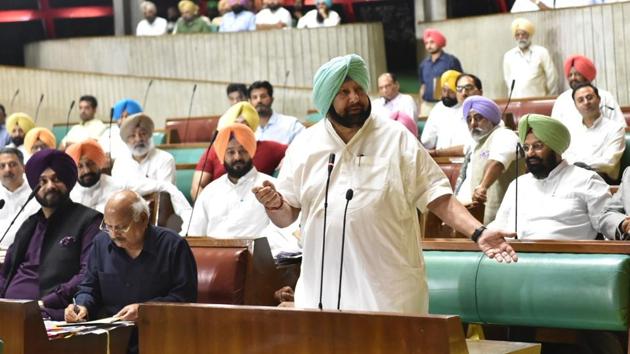 Had the government of Captain Amarinder Singh been in power in Punjab then, as it is now, the "ad-dharmis" would have been arrested, prosecuted, and potentially imprisoned for life. This is the effect of the "blasphemy law", which inserts a new Section 295AA into the Indian Penal Code. The vague and suggestive wording of the section is a delight for unscrupulous governments: it criminalises "injury, damage or sacrilege to Sri Guru Granth Sahib, Srimad Bhagwad Geeta, Holy Quran and Holy Bible with the intention to hurt the religious feelings of the people".
But there are three constitutional problems with Punjab's plan to criminalise blasphemy.
First, by giving four religions an effective veto power over what can or cannot be said, the sacrilege law transforms Punjab into a theocratic state along the lines of Pakistan or Saudi Arabia. This is at odds with our cosmopolitan and inclusive Constitution. It is also at odds with the fundamental right to freedom of speech and expression.
The famous Article 19(1) of our Constitution does not permit "sacrilege" or "hurt ... religious feelings" to be invoked as grounds for restricting the freedom of speech. It recognises that the purpose of freedom of speech in a democracy is not just to allow people to say things that are palatable or comforting, but to "offend, shock, or disturb". In particular, it does not give individuals the right to demand that speech be restricted if it "hurts" their feelings, simply by invoking religion as the basis for those feelings. To accept such a view would be to let religion dictate the scope of the right to free speech, and destroy the delicate balance wrought in the Constitution between protecting religious freedom, and furthering crucial democratic values, such as the freedom of expression.
Second, the dictionary defines the word "sacrilege" as "gross irreverence toward a hallowed person, place, or thing". By criminalising "irreverence", the Punjab government has essentially created a regime of thought crime, where showing insufficient "reverence" can have you arrested and jailed. At its heart, the command that due "reverence" must be shown to the revealed truth, whether it is in the Guru Ganth Sahib or the Quran, is based on the idea that religion is the ultimate arbiter of truth, and cannot be questioned.
In a free and open democracy, however, very few questions are treated as settled and immutable for all time. Truth is not revealed from above, but something that we discover through debate, discussion, and learning from one another. Therefore, one crucial purpose of the freedom of speech is to ensure that, through constant communication and articulation of competing and even conflicting ideas, we move closer towards identifying truth. But in making the four religious books immune from criticism, the Punjab government appears to be cutting short the debate altogether, simply on the basis of "hurt feelings".
Third, in criminalising "sacrilege", Section 295AA penalises dissent and debate within religions. The definition of what counts as sacrilege will, inevitably, be determined on the basis of the views of those who claim to represent the religious communities. This, however, gives continued control over the evolution and interpretation of religion to a narrow set of gatekeepers. This is particularly poignant in India, whose entire history is characterised by deep dissent within faiths, and the formation of new religions and ways of life that arise out of these dissents. It is to religious dissent that we owe Buddhism, Jainism, the Bhakti Movement, and — ironically enough — Sikhism. Section 395AA seeks to throttle the lifeblood of any community: the ability to disagree — even to disagree radically — with the prevailing orthodoxy.
The Punjab government's proposed Section 295AA, therefore, is not only about violating individuals' rights to freedom of speech and expression, but about the broader question about "the kind of democracy that we have proclaimed ourselves to be".
Are we a paranoid democracy that allows religious groups to eliminate all forms of dissent by codifying a blasphemy law with a punishment of life imprisonment? Or are we a courageous democracy, that encourages challenges to, and debates about, all the prevailing ideas that we hold most dear, and are more passionate about. The eventual fate of Section 295AA — whether in the state legislative assembly or in the courts — will help us to answer these two questions.
Gautam Bhatia is an advocate in the Supreme Court
The views expressed are personal