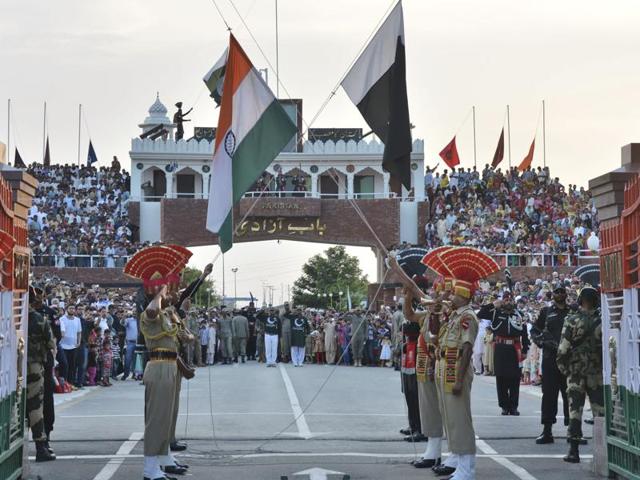 It's time we dropped the jingoism and hate at Wagah Border
Look no further than the Wagah border every evening to see how easily nationalism can descend into ultra-nationalism
UPDATED ON OCT 03, 2016 09:30 PM IST
There is a thin line between nationalism constructed on a positive vision of a common future for one's own people, and ultra-nationalism based on deep hatred and dislike for the 'other'.
The first brings together people of diverse languages, regions, and religions living within one state; creates energy and hope; focuses on internal strengths and vulnerabilities and what we should all become.
The second divides people, internally and externally; creates a binary of "us" versus "them"; focuses energy on the adversary and enemy, and how to shame, beat and overshadow it.
Read | Stone throwing, anti-India slogans by Pak gallery sully Wagah border ceremony
Look no further than the Wagah border every evening to see how easily nationalism can descend into ultra-nationalism.
On Sunday evening, a group of Pakistani citizens congregated on their side of the Wagah border. This is usual, for crowds on both sides watch soldiers lower the flag and cheer them on.
But the chill in ties between the two countries over the past fortnight, and India's "surgical strikes", was clearly playing on their minds. They choose to convert it into a show of strength, accompanied with loud jeers and, some reports suggested, even stone-pelting.
Read | Pakistan turns beating retreat ceremony at Wagah into show of strength
While the aggression may have emanated from Pakistan this time, the Indian record has not been particularly pleasant in this regard. Every evening, as tourists gather in Wagah, they have applauded the BSF soldiers. But they have supplemented this with crass, ugly slogans against Pakistan.
As Gopalkrishna Gandhi has argued, this is not patriotism but "hatriotism" — hatred of the other country. And it does not only make distant observers uncomfortable but those at the forefront of protecting our borders. A BSF official said in 2010 it was an "undignified ceremony" which caused mental strain to the troops and both sides had agreed to tone down the aggressive rhetoric.
Read | India and Pakistan are doomed to conducting an eternal dialogue of the deaf
But the problem at the border is not the state as much as society.
It has long been said that the problem with Pakistan is its identity dilemma — the nation's identity is constructed in opposition, rivalry and even enmity with India. Unfortunately, many in India too seem to define their own nationalism in terms that rests on opposition to Pakistan.
The spectacle at Wagah is a reflection of this. It is time for both nations to grow up, and for starters, drop the jingoism at the border.
The views expressed are personal
The author tweets as @prashantktm
Close