JNU students are first among equals, idealistic and inquisitive
Feb 24, 2016 02:18 AM IST
Nationalism is not jingoism but love for your country, a commitment to it and willingness to fight for your ideals for it
I took the morning flight from Ahmedabad to Delhi on December 5, 1992, and landed at the vice-chancellor's lodge at Jawaharlal Nehru University (JNU). There were some policemen and security staff there. All the doors and windows were closed. The policemen were sent back to the police station and the security men to look after the university's main gate. The doors and windows were opened, so fresh air could come into the V-C's small bungalow.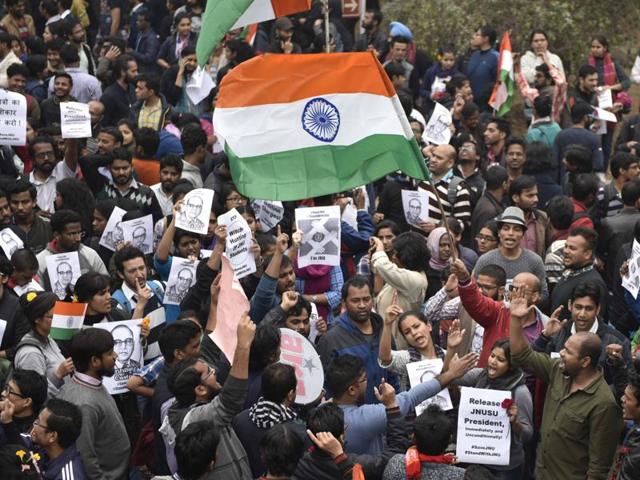 From day one I let it be known that the V-C is available to each JNU student, if need be, the same day. Many nights this meant after 10pm. Every day, I would get a list of students who had completed their M Phil or PhD. I wrote a handwritten letter to each student who scored an A grade and all PhD students, saying how proud we were of their performance and how the university looked forward to their contributions to their profession and to the country. From Egypt to Canada, from Paris to Brasilia, somebody will tap my shoulder and would say, "Sir, you were my V-C, I treasure the letter you wrote to me."
A teacher has many rewards. But we also had our share of problems. Protesting against proposals to raise resources from non-government sources, the students were not allowing the Academic Council to meet on the campus. The university V-C is about moral authority and I was not giving up that space. It was suggested that we call in the police. To me that was equally unacceptable as that, too, would mean ceding authority. For once the police came in, they would be the authority in charge, and if a boy threw a stone, the police would retaliate with force. These were our students and I told the student union activists stopping me that I was going on satyagraha until they let us in. I wrote a letter to the chancellor, PN Haksar, reporting the events and that I was instructing the finance officer to deduct my salary for the days I was on satyagraha. Haksar wrote an open letter to the community on 'bended knees', asking them to sort out the matters within the rules. Within two hours more than 50 teachers were standing with me in solidarity. Within two days the students gave in.
On another occasion some of them demonstrated at Jantar Mantar and were dutifully arrested. I spoke to the additional secretary (home) and the deputy superintendent of police in charge of Parliament Street police station, and got an assurance that they would be released in a few hours.
Read: JNU circumstances have changed, oppose Kanhaiya's bail now: Bassi
V-Cs were not allowed to go to the hostels. Not knowing this, when I joined, I went to a hostel to eat my lunch and such visits became a common feature. If I did not go to a hostel in a particular semester, it became a matter of concern. The V-C ignores our hostel. Each hostel mess would invite me to all their celebrations, including Eid and Diwali.
A visiting Japanese scholar from Nagoya University had described the hostels in JNU as some of the most democratic societies anywhere. Every evening, out-of-the-box thinkers and leaders were invited to speak on problems and issues of the day: LK Advani on Opposition perspectives, comrade Vinod Mishra of the CPI (ML), and leaders, thinkers and alumni alike. The session would end only after 'all the problems are solved', which meant that the last question had to be answered before the meeting dispersed. This is the reason that JNU students do so well in the UPSC exams for the higher civil services. I found out when I chaired a committee set up to develop the recruitment and training policies for the higher civil services. They are all trained in disciplined argumentation and would breeze through any discussion.
And, it is humbug to say that they are all of one ideological hue. The late Manohar Lal Sondhi, a proud JNUite, a member of the National Executive of the BJP, appointed by then Prime Minister Atal Bihari Vajpayee as chairman of the Indian Council for Social Science Research, was a favourite teacher and respected colleague. Like others he revelled in debate and the fiercely independent academic culture of a great university.
Read: Budget session: Modi govt to go on offensive in Parliament over JNU row
Now the HRD ministry is concentrating on flag hoisting in universities. Flag hoisting was a great event at JNU. The flag was raised at each hostel and in the Plaza on August 15 and January 26. Chandra Shekhar, (CPI-ML), who was president of the JNU students' union, after the official flag hoisting, asked me to attend his flag hoisting at the Ganga Hostel, where a small tricolour was unfurled on a small bamboo pole, by the oldest Dalit Class IV lady employee.
Nationalism is not jingoism but love for your country in a quiet unstated manner, a commitment to it and willingness to fight for your ideals for it. I was teaching economics at the University of Pennsylvania and Swarthmore College and had decided to come back to India. When some of the world's top economists asked me why I did so, I said these, sirs, were matters of the heart and not money and global prestige.
Read: JNU row: Perfect case study to show how media is losing its credibility
Tens of thousands apply to JNU and only a thousand are admitted. These students are the first among equals, idealistic and intellectually inquisitive. Intensely patriotic, they are angry with those who play with its ideals.
JNU does not just teach skills in the way the IIMs or IITs do. It creates the skills to change the world. If Nalanda, Al Azhar, Berkeley and Oxford only taught skills there would be no progress because skills work the existing systems. JNU pursues the holy grail of knowledge in its complete form. As we say: Satyamev Jayate.
(YK Alagh is a former Union minister and former vice-chancellor, JNU. The views expressed are personal)