Pakistan's Kashmir narrative in the UN finds few takers in its neighbourhood
Updated on Sep 25, 2017 01:48 PM IST
Shahid Khaqan Abbasi lamented bitterly about "violation of human rights" in Kashmir at the UN. But it could not drown out sharp criticism of Pakistan from Bangladesh and Afghanistan that laid bare its growing isolation in South Asia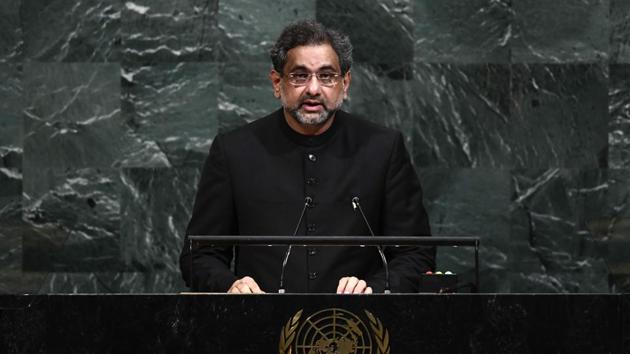 Pakistan has staged that act before at the UN: lament bitterly about "violation of human rights" in Kashmir — throw in the phrase "war crimes" as this time, play a victim of terrorism than its chief sponsor, accuse India of holding back peace efforts and beseech the world for some love, trust and respect. Scrapping with India, typically, creates some buzz, makes a few headlines on the subcontinent and plays big back home presumably with assorted constituencies, thus the annual rerun.
This time, Prime Minister Shahid Khaqan Abbasi did all that, and some more, but was not shrill enough perhaps to drown out sharp criticism of Pakistan from Bangladesh and Afghanistan that laid bare its growing isolation in South Asia, where it seems to be at odds with its neighbours on the west, Afghanistan, and the east, India, and further east, Bangladesh.
Afghanistan was the first to go at it. "We now … have an opportunity for a dialogue with our neighbours on how we can work together earnestly to eliminate terrorism and contain extremism," President Ashraf Ghani told the UN general assembly on September 19.
"I call upon Pakistan to engage with us on a comprehensive state to state dialogue on peace, security and regional cooperation leading to prosperity." And just so the import of his appeal to Pakistan was not clear enough he had added that "moving forward, we ask for a change of perspective from our international partners. For too long the conflict in Afghanistan has been viewed through the prism of civil war. But this war is not within our soil, it is over our soil."
Ghani's public appeal was, in fact, a barely public rebuke of Pakistan's role in harbouring terrorists operating in Afghanistan, the Haqqani Network, for instance, one of the most organised and sophisticated insurgent groups that has targeted both Afghan and US-led international coalition forces. It operates from Pakistan's North Waziristan, with the backing of the host nation's security establishment.
A stung Pakistan lashed back exercising its right to reply. "Instead of blaming others for its problems and failures," it fumed, "(Afghanistan) should focus on eradicating safe havens for terrorists in its ungoverned spaces and deal with its war economy and narco-state that is a major threat regional peace and stability."
Next up was Bangladesh. After speaking passionately about the influx of Rohingya refugees from across the border with Myanmar, Prime Minister Sheikh Hasina, told the UN general assembly on September 21, about the "extreme form of genocide" perpetrated in her country during the nine-month-long war of liberation against Pakistan in 1971 — "Three million innocent people were killed and more than 200,000 women were violated. The Pakistan military launched the heinous 'operation searchlight' on 25th March which was the beginning of the 1971 genocide".
The Bangladesh government recently declared March 25 "Genocide Day" and plans to ask the UN to endorse it internationally. "I urge the international community to take collective actions to prevent recurrence of such heinous crimes anywhere anytime," Hasina said, adding, "I believe, recognition of past tragedies like the 1971 genocide would guide us to achieve 'never again'."
This, too, didn't go down well with Pakistan, which said, exercising its right to reply. "For our Bangladesh brothers and sisters," said a Pakistan diplomat, "let me add, that they have to come out of the narrative of hate and dispel their twisted notion of history. There are no takers for their contentions. The issues of 1971 were agreed and settled under the Tripartite Agreement of 1974 which was signed by India and the Banga Bandhu of Bangladesh. Hate begets hate. We have to move on."
It hadn't been a good day for Pakistan. The same diplomat had started by a right-to-reply response to a stinging right-to-reply remarks from the Indian mission, to Prime Minister Abbas's speech earlier in the day. India had called Pakistan "Terroristan" and said the land of the pure ("pure" is Pak in Urdu) as Pakistan had been envisaged by its founders, it had turned into a land of pure terror. Dismissing India's criticisms, the diplomat contended, "The root cause of all ills of South Asia remains the unresolved Jammu and Kashmir dispute." Unfortunately for Pakistan, no other South Asian country agreed.
This is not a friendly neighbourhood for Pakistan, and it knows moving out is not an option. But it also knows it can fix the problem, and that cannot be done from the podium of the UN general assembly. Or maybe that's the right stage, but not for the same annual drama.
yashwant.raj@hindustantimes.com