Sec 377 reflects colonial mindset, not our traditional attitudes
Section 377 does not reflect the traditional Indian attitudes towards sex. It is, in fact, a reflection of the British colonial mindset, influenced by medieval interpretations of Christianity.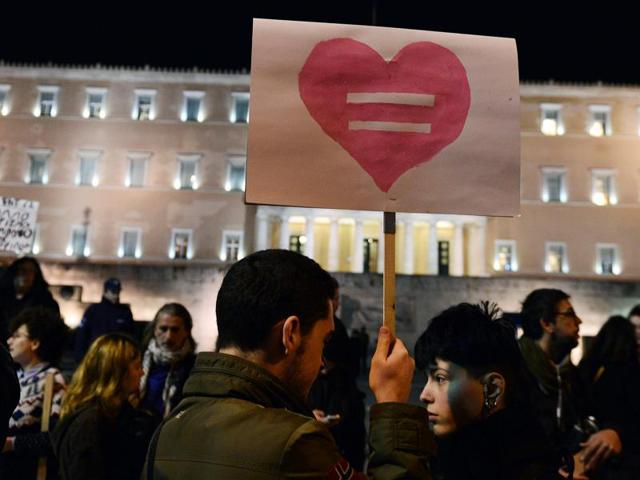 Updated on Jan 01, 2016 01:23 PM IST
Change happens when one is ready for it — be it at an individual or a societal level. How does one arrive at this readiness? Through discussions and debates. It was good to see a few politicians from across the political spectrum take a liberal stand on the issue of gay rights. I believe it's time we debate Section 377 of the Indian Penal Code that criminalises sexual activity of LGBTs (lesbians, gays, bisexuals and transgenders). It is an egregious and illiberal section that must be repealed. There are some who have reservations based on cultural and religious grounds. Well, let's debate them.
I am not as deeply familiar with Christian and Muslim scriptures as I am with Hindu ones. I've been told that Christian and Muslim scriptures specifically ban homosexual relations, which are seen as an abomination and a serious crime. But there is a no single interpretation. Muslim Saudi Arabia prescribes severe punishment, including the death penalty, for homosexuality, while Kuwait does not criminalise lesbianism (though male homosexuality is still a crime). Christian Ireland, a country that bans abortions even in cases of pregnancies induced by rape or incest, has decriminalised homosexuality. I am sure liberal interpretations on the LGBT issue are possible and I leave it to Indian Christian and Muslim liberals to find those interpretations and speak out. Let me address the issue from a Hindu perspective.
Many stories from Hindu texts refer to LGBTs, and not in a negative way. There is the famous example of Shikhandi in the Mahabharat, the nemesis of Bhishma himself. Then there is King Bhangaswan, a man who later changed into a woman. His freedom of choice was not denied. Consider Ilaa, who was born as a girl. She was the founder of the great Chandravanshi clan. Ilaa, at one stage, transformed into a man named Ila, and sired more children. Lesbianism finds mention in Vatsayanaji's Kamasutra. I have not come across any story from ancient India in which a character was punished severely for his/her sexual orientation. Admittedly, at times one didn't find approval for such an orientation in the texts, but it was not considered an abomination or even a serious crime.
But some may argue further: What about Hindu community laws? What about the Manu Smriti? Firstly, one should know that the Smritis (or law books) are considered man-made, unlike the Shrutis (like the Vedas) which are of divine origin. Compiled periodically to regulate society, there are numerous Smritis. The conservative Manu Smriti was popularised by the British above all other Smritis, but it's not the only one. The Smritis essentially reflected the mood of the times that they were written in. Some Smritis are very liberal and some are conservative. We can write our own Smriti, at any point in time; in fact we've done so recently, and it is called the Indian Constitution.
Let us examine what even the most conservative Manu Smriti has to say about homosexuality. It was listed as a relatively minor misdemeanour; and the only punishment prescribed was a ritual bath with your clothes on. Interestingly, if a man cheated on his wife it was considered a very serious crime and the punishment prescribed was the death penalty. So even the conservative Manu Smriti does not see homosexuality as an abomination. Culturally, ancient India had a far more liberal attitude towards non-traditional sexual practices. Perhaps this was because sex itself was never embroiled in tortuous guilt in ancient India. It was not an obsession either. It was just another beautiful aspect of this wondrous cycle of life.
Section 377 does not reflect the traditional Indian attitudes towards sex. It is, in fact, a reflection of the British colonial mindset, influenced by medieval interpretations of Christianity.
Having said so, this cultural debate is in the realm of society. Laws on the other hand cannot, and should not, be circumscribed by religious or cultural restrictions. That is not the way a multi-religious society can create an efficient State.
The foundation of any liberal society is respect for individual rights i.e. no individual shall face any discrimination from the law and every individual has the right to lead his/her life the way he/she wishes to, so long as they don't force their way of life on others. However, the post-Independence form of Indian liberalism is a unique creature; it is more respectful of group rights than individual rights. Therefore, we have incorporated many sectarian laws into our statute books. Hindus have tax benefits that are not available to non-Hindu Indians through the HUF clause. Muslim women suffer injustices (such as polygamy and triple talaq) that their other Indian sisters don't. The Right to Education (RTE) Act specifically makes some clauses inapplicable to Muslim and Christian educational institutions. Don't Muslim and Christian students deserve the full benefits of RTE as much as Hindu students? There are many more such examples. Most modern Indian liberals do not find such sectarian laws odd because they have not imbibed the spirit of individual rights. A modern State can only be built on individual rights, with no differentiation under the law based on any groups or communities. And thereby, applying a similar principle of true liberalism, if heterosexual couples have the freedom to love each other, LGBT couples deserve it as well.
Let's be truly Indian. Let's be truly liberal.
Amish is the bestselling author of the Shiva Trilogy & Scion of Ikshvaku
Twitter: @authoramish
The views expressed are personal
Close Story