Teaching in accordance with learning capacity works best
Published on Oct 06, 2016 08:27 PM IST
Educational reforms that match teaching to students' learning levels have been found to be among the most cost-effective and have the highest impact on basic reading and arithmetic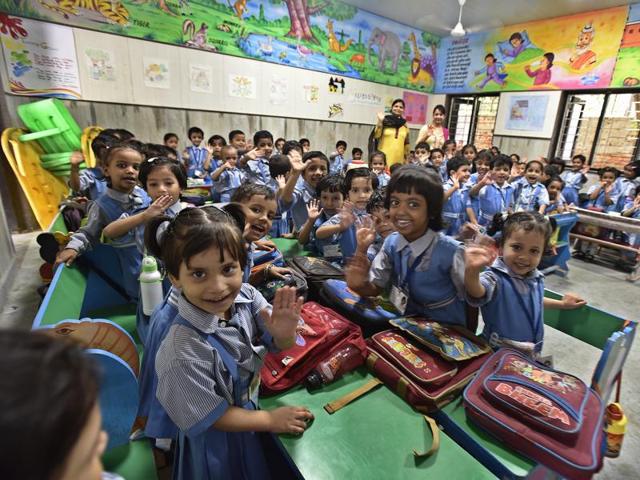 Shobhini Mukerji and Jasmine Shah
When he was Prime Minister, Manmohan Singh had famously called child malnutrition a national shame. He could have very well added another one to that — the learning crises in India's schools. But an even bigger shame is that rigorously proven and scalable solutions are attacked by critics — politicians and academics alike — without offering any reliable facts or evidence.
Take, for instance, what seems to be happening with the Delhi government's efforts in education, particularly its initiative to improve basic reading and maths skills of students of government schools. Acknowledging the grim reality that a majority of class 6 students cannot read or perform maths operations of class 3, the Delhi government launched a new initiative. This new programme aims to improve basic learning outcomes by restructuring classroom instruction to the level and pace of the student, rather than letting it remain anchored to the rigid expectations of a class-wise curriculum. The objective is to ensure that low-performing students quickly pick up basic skills and start making progress. The government argued that without foundational skills like reading and comprehension in place, it is almost impossible for a child to access the textbooks for his/her grade.
Read: Half of Class 6 students in Delhi govt schools can't read at all
No doubt any new effort has supporters and critics alike. But the critiques recently published in a leading national newspaper of the above-mentioned initiative are especially striking because they rely almost entirely on anecdotes and casual observations rather than on scientific evidence. If not politicians, at least academics should know that policy advice should be based on systematic studies and that rigorous research is produced by painstaking field work. Remarkably, the critiques completely ignore 15 years of robust research — perhaps the most important piece of actionable research on elementary education in India that shows "what works" to improve basic learning outcomes.
Researchers affiliated with the Abdul Latif Jameel Poverty Action Lab (J-PAL) recently published a working paper that summarises this research. In summary, over the last decade, these researchers conducted a series of randomised evaluations of NGO Pratham's learning improvement model, called "Teaching at the Right Level", across multiple states, time frames and contexts: from learning camps in a government primary school to a village/community setting, implemented by volunteers and/or by government school teachers, using high-quality and low-cost materials. In each instance, a clearly articulated learning goal motivated the effort; the core model involved grouping children in grades 3 to 5 by their actual (rather than expected) learning level, and using interactive and level-appropriate learning materials for each group, along with frequent testing.
The researchers found that the core pedagogy of "Teaching at the Right Level", when implemented, had a consistently significant impact on basic literacy and numeracy skills of primary school children. In Uttar Pradesh, where baseline learning levels were among the lowest in India, the researchers found that 50 days of active teaching through this pedagogy resulted in enormous learning gains and erased years of stagnation in learning. Within 100-120 hours of instruction, UP students were on a par with an average student of Haryana, among the top states by learning achievement for the same grades (ASER 2014).
Read: NCERT survey to check Chandigarh students' level of learning
The researchers also pointed to a set of overarching lessons: That it was possible to implement this model successfully in government school systems at scale, that well-trained volunteers and school teachers alike could lead this improvement when tasked with a single focus that is not competing with curriculum completion, and that ongoing mentoring support to government school teachers by trained supervisors could go a long way in sustaining improvements.
In a separate study, published in Science in 2013, the researchers conducted a cost-effectiveness analysis of 30 different primary school programmes targeting learning outcomes in developing countries, and concluded that pedagogical reforms that matched teaching to students' learning levels were among the most cost-effective and had the highest impact on basic reading and arithmetic.
Read: Virtual classrooms make debut in govt middle schools in MP
Based on this robust evidence, Zambia, Ghana and several Indian states have begun scaling this model (with initial technical support from Pratham), and with very promising results. In a recent effort by Andhra Pradesh, the "Teaching at the Right Level" model was implemented last year in classes 3 to 5 of 1,700 schools of Anantapur district — chosen since it had among the lowest achievement levels among all districts of the state. After three months of implementation, the basic reading skills of these students surpassed those of the best-performing district in Andhra Pradesh, Warangal (according to ASER 2014). From our field experiences, we find an overwhelming majority of teachers and students support this programme.
To be sure, scaling up this model with impact won't be easy. It requires not only implementing this model at scale with all the key elements we believe have worked, but also making them sustain through the resistance of school bureaucracy and changing political priorities. Here again, carefully designed process monitoring systems that can regularly provide reliable data on the progress in learning outcomes through this programme, and highlight the most crucial factors for a successful implementation, will be important.
On the whole, the education policy landscape in India and the developing world has shifted substantially over the last decade. Policymakers now have access to a plethora of scientific evidence on what works, and what doesn't, as well as the tools to generate their own answers in collaboration with researchers. Many problems, such as persistently low learning levels in Indian schools, exist not because of the lack of proven and scalable solutions. They persist because policymakers continue to make decisions based on ideology, instincts, or based on the advice of experts who base their arguments on "because-I-am-telling-you-so". They would do well to heed Narayana Murthy's famous quote: In god we trust, everybody else bring data to the table.
Shobhini Mukerji and Jasmine Shah are executive director and deputy director, respectively, at the Abdul Latif Jameel Poverty Action Lab South Asia, Institute for Financial Management and Research.
The views expressed are personal.